Nine has extended a partnership with one of Australia's newest ad tech players to deliver a mobile programmatic offering it hopes will revolutionise small screen advertising.
Playground XYZ, which launched last November promising it would shake-up mobile advertising, has been given the green light to bring new ad formats, including Super Skin, Side Push, and Top and Tail, to more than six million monthly users who access Nine's digital properties on their smartphones.
The mobile ad units, first revealed to the market at a Nine digital launch event in June, will be available immediately through Nine's programmatic marketplace, covering flagship digital brands nine.com.au, 9Now, 9News, Wide World of Sports, 9Honey, 9Coach, 9Pickle, 9Elsewhere and recently launched food vertical 9Kitchen.
The partnership aims to provide marketers a deeper connection with mobile consumers using creative that engages in a non-intrusive way that won't compel users to switch on ad blockers.
It represents another milestone on Nine's journey towards an agnostic trading across linear TV and digital.
"Mobile advertising success in 2016 is as much about delivering an engaging mobile user experience as it is about providing a compelling, measurable outcome for the advertiser," Nine's director of sales, digital Ben Gunn says.
"This new mobile programmatic offering provides both unique targeting efficiencies and creative excellence on what is the fastest-growing marketing platform."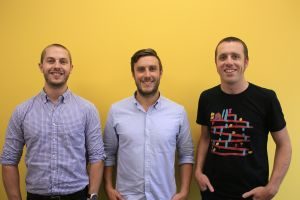 Playground mobile
Playground XYZ was formed when ex-Big Mobile employees Rob Hall (CEO of Playground XYZ, pictured centre), Scott Liddell (CFO, left) and Jono Mullins (CTO, right) grew tired of uninspired mobile creative which adhered to IAB specifications but did little to engage audiences or stem the tide of users resorting to ad blocking.
The aim of firm is to look at mobile advertising in another way by "redesigning the canvass". Hall says the extended partnership with Nine is an opportunity to drive change in the mobile advertising ecosystem.
"Site skins, bespoke shapes and sizes, new and different ad types – these are the things people often say can't be automated, but here it is," he says. "When we show people these highly-customised ad formats, the assumption is that they'd be a pain to trade. We've worked tirelessly on making scale and ease part of the offering.
"On the creative front that means building one ad execution that works seamlessly across all certified sites. Now, on the trading front, we've enabled the delivery of these ads through Nine's programmatic marketplace."
Source: AdNews