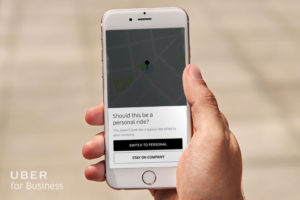 Uber announced a new program called Profile Recommendations that takes advantage of machine intelligence to reduce user error when switching between personal and business accounts.
It's not unusual for a person to have both types of accounts. When you're out and about, it's easy to forget to switch between them when appropriate. Uber wants to help by recommending the correct one.
"Using machine learning, Uber can predict which profile and corresponding payment method an employee should be using, and make the appropriate recommendation," Ronnie Gurion, GM and Global Head of Uber for Business wrote in a blog post announcing the new feature.
Uber has been analysing a dizzying amount of trip data for so long, it can now (mostly) understand the purpose of a given trip based on the details of your request. While it's certainly not perfect because it's not always obvious what the purpose is, Uber believes it can determine the correct intention 80 percent of the time. For that remaining 20 percent, when it doesn't get it right, Uber is hoping to simplify corrections too.
Business users can now also assign trip reviewers — managers or other employees who understand the employee's usage patterns, and can flag questionable rides. Instead of starting an email thread or complicated bureaucratic process to resolve an issue, the employee can now see these flagged rides and resolve them right in the app.
"This new feature not only saves the employee's and administrator's time, but it also cuts down on delays associated with closing out reports," Gurion wrote in the blog post announcement.
Uber also announced that it's supporting a slew of new expense reporting software to simplify integration with these systems. They currently have integrations with Certify, Chrome River, Concur and Expensify. They will be adding support for Expensya, Happay, Rydoo, Zeno by Serko and Zoho Expense starting in September.
All of this should help business account holders deal with Uber expenses more efficiently, while integrating with many of the leading expense programs to move data smoothly from Uber to a company's regular record-keeping systems.
Source: TechCrunch