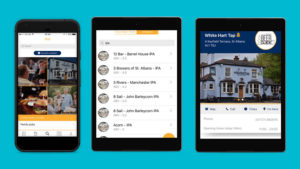 The Campaign for Real Ale (CAMRA) has developed a new app which lets users search for their closest pint from any smartphone while reviewing the pub and sharing their activity.
The Good Beer Guide app collates data from over 40,000 pubs, 10,000 beers and 2,000 breweries which have been individually visited and reviewed by thousands of CAMRA volunteers. Harnessing this data, the app allows users to search for a pub anywhere in the UK and apply a number of filters, such as whether the pub is dog-friendly, has free wifi, offers real cider – and many more.
Users can then use in-app social feeds to share information on the pubs they visit and the beers they enjoy, which includes posting pictures and comments. The image capture functionality also supports pump clip scanning to search and match beer at the bar to information on CAMRA's database.
The app is optimised for smartphones and available on the App Store and Google Play. Users can subscribe for as little as £4.99/year to access even more features and enhanced search tools. Paid subscribers can access the premium listing of 4,500 CAMRA-recommended pub listings from the Good Beer Guide, the UK's best-selling beer and pub guide.
Developed as a cross platform app for Android and iOS, it has been built using the popular ionic framework to provide a modern feel and seamless database integration. The app also caches key local area data to the handset at all times to ensure access even when reception is limited.
CAMRA's Head of Publishing Simon Hall says: "The Good Beer Guide app is all about harnessing data for the user. It links pub to beer to brewer and delivers that information to the user when they want it, where they want it, how they want it. The Good Beer Guide is already established as a hugely respected and valued beer and pub guide. The app is a great companion to the book, opening up the world of beer to even more people and providing a unique platform for users to share their passion with others through tasting notes, reviews and pictures of great pubs and beer."
Source: Net Imperative