Alzheimer's Society, McCann Worldgroup in Europe, and MRM//McCann Frankfurt are launching My Carer, an Alexa Skill, created to help improve the lives of hundreds of thousands of people living with dementia in the UK. Globally dementia is expected to affect 50 million people by 2020. The cost of caring for dementia currently is $818 billion/£627billion. McCann developed the skill together with Skilled, a digital studio dedicated to the development of voice assistant skills.
My Carer helps people living with early stage dementia to follow their daily routine and retain their independence. Its function not only reminds them what to do, but also guides them step by step, through their daily tasks – how to take the medication, how to prepare their lunch, helping them to remember birthdays, or names of their loved one.
"Voice has been tipped to be next interface for some time. Despite having a significant instal-base – a quarter of US households and 20% in UK – we are yet to see much brand-driven activity with Voice. Using Voice to help people at home in their daily lives represents a real sea-change. We're already seeing the comfort and convenience across generations that people get from in-home voice devices and we're only in year 3 of this technology being available to the consumer," said Jon Carney, CDO Europe, McCann Worldgroup.
"Dementia affects the whole family, as loved ones juggle caring demands and worry about the safety of their relatives at home. My Carer has enormous potential to help, enabling family members to provide personalised, remote support when they can't be there in person. We're excited to see this cutting edge technology being applied to dementia and now launched for further testing. The launch last month of our UK Dementia Research Institute Care and Technology centre is another example alongside the 'My Carer' app that shows it's dementia's moment to benefit from the latest developments in AI, smartphone technology and social robotics. These technologies have great potential to help people with dementia live where they want to be – at home – for as long as possible," commented Colin Capper, the Head of Research Development and Evaluation at Alzheimer's Society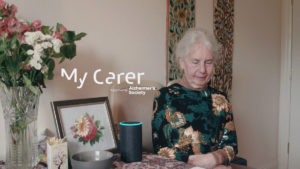 "We envisaged My Carer as the first step towards voice-based home healthcare for people living with dementia and so will make the skill available for free on the Alexa Skill store. We have designed the entire process to be extremely simple: through the MyCarer.app website, the person living with early stage dementia or their carer can customise a daily routine with instructions step by step. My Carer helps users to complete tasks such as preparing meals and getting ready for appointments. At the time scheduled, Alexa sends a voice notification to let the patient know there's a new task to do," stated Michael Cooper, Digital Director Europe, McCann Worldgroup.
He continued, "When using an Echo device with a screen, the user can even add images of items and locations to make the steps even clearer. The skill supports the person with interactive guidance and verifies that each step has been followed until the task is completed. If a patient doesn't reply to the skill, a notification will be sent to a relative or carer."
My Carer can also works as a research tool by securely collecting data as people with dementia go about their daily lives. Researchers are exploring how patterns of behaviour revealed in data can predict the progression of dementia symptoms.
Combining this data with machine learning will enable My Carer to progressively tailor the support offered according to the needs of each individual and their carer.
Source: McCann Worldgroup