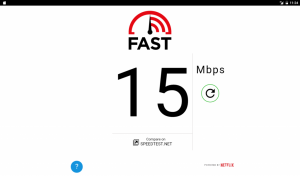 Online video streaming service Netflix has launched a tool for iOS and Android devices that enables users to check the speed of their internet connection, whether its arriving via wi-fi or mobile data.
Netflix had already launched an online tool for internet connection checking in May, Fast.com, but the new app shows that the company recognises that many of its customers are now streaming on mobile devices like tablets and smartphones.
The service also links to Speedtest.net, which provides more a more detailed overview of internet speed including ping rates and upload speeds, but according to Netflix, the app and website are designed to provide users with a simpler, easier-to-understand way of checking their connection.
"We all want a faster, better internet, yet internet speeds vary greatly and can be affected by other users on your network or congestion with your internet service provider," said David Fullagar, vice president of content delivery architecture at Netflix during the launch of Fast.com.
"Like the cellular data controls we recently introduced, Fast.com is another tool consumers can use for greater insight and control of their internet service. And like the Netflix service, it's ad free with a streamlined design that is quick and easy to understand."
Source: Mobile Marketing Magazine