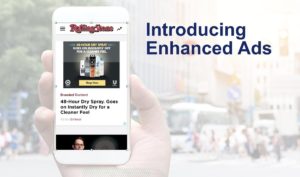 Sharethrough has announced the launch of an Enhanced Ads product line to help advertisers improve the performance of their display and video campaigns with their existing creative assets and media buying strategies. Using proprietary templating technology, Sharethrough transforms display and video assets into higher-performing native ads, delivered on top content sites across the Sharethrough Exchange (STX).
Announced during the Native Ad Forum at Advertising Week Europe, Sharethrough was joined by launch partners Comedy Central and Bliss. Both advertisers ran enhanced display campaigns with exciting results.
"The enhanced ad product has allowed Comedy Central to get added performance out of its assets without requiring additional creative development or media planning," said Kayla Moriarty, director of digital marketing at Comedy Central.
"As a relatively new display buyer, Bliss was eager to partner with Sharethrough since their Enhanced Display offering gave us a way to activate quickly and try new things with minimal effort on our side," said Karilyn Anderson, VP of digital at Bliss. "After launching with Sharethrough, we saw 2 times improvement in CTR."
"And with that, we've seen a 54 per cent improvement in session length (compared to the previous time period, GA)," said Cassie Schultz, senior paid media strategist at Blue Moon Digital. "We have been able to see results, understand the impact, and iterate quickly, which has informed our targeting, content, and creative strategies and helped us optimize the Bliss campaign accordingly."
Native advertising on content sites is an $8.2bn industry and growing, but advertisers are still spending more of their budgets on traditional banners and in-stream video, even though these formats don't drive the same qualified user engagements and attention. Sharethrough's Enhanced Ads helps buyers bridge this gap.
"Native is proven to drive better results for marketers – better brand lift, more clicks, more conversions. Brands want native," said Curt Larson, chief product officer at Sharethrough. "Yet, most brands spend more money on banners given the legitimate entrenched ease of the existing supply and demand chain. We're really excited to launch enhanced ads to break down those barriers and delivers the benefit of native back to the brand without requiring the supply chain to change."
Outside of display, Sharethrough's Enhanced Video product improves outstream video performance by adding a headline and rendering the ads in native placements.
Source: Mobile Marketing Magazine