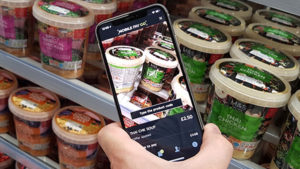 Marks & Spencer (M&S) has launched a checkout-free mobile payment service to speed up the buying experience in a small number of its stores.
'Mobile, Pay, Go' is a feature within the M&S iPhone app which enables customers to scan products as they go and then pay from their device using Apple Pay or a saved card on their M&S.com account – without ever having to visit a till.
"Digitally enabled stores that offer a seamless customer experience are a crucial part of our transformation and our ambition to be a Digital First retailer," said Sacha Berendji, retail, operations and property director at Marks & Spencer. "Our customers – especially those who come to us for lunch – are so busy, any tech that can speed up the shopping experience is a massive benefit to them.  Crucially, it also means our brilliant colleagues are freed up to offer great service in other parts of the store, helping to improve the overall experience in the lunchtime rush. We're moving with pace and we can't wait to hear what our customers think."
For the time being, the mobile payment service is only available in select London stores. It is available now in Edgware Road and Waterside Simply Food, while it will roll out to West Hampstead, Bankside, Canary Wharf, and Stratford Westfield over the next few weeks. The retailer hopes to use customer feedback to improve the service ahead of a rollout to more stores in early 2019.
"Mobile Pay Go is one of many new initiatives we're developing as part of our digital transformation, with agile and lean practices at the core of our approach," said Jim Cruickshank, global head of digital product and UX at Marks & Spencer. "We've worked hard to deliver the fastest and most friction-free customer experience possible."
Source: Mobile Marketing Magazine