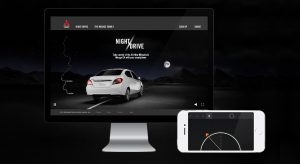 Former TBWA Singapore and JWT Singapore creative Karan Dang has just released a new campaign from his new agency 180LA. It's Dang's first digital project since he joined 180LA as digital creative director a few months ago.
To promote the launch of the 2017 Mitsubishi Mirage and All-New Mirage G4, Mitsubishi launches MirageG4NightDrive.com, a dual screen interactive experience in which drivers use their phone and laptop together to test the Mirage G4's best features.
The Mirage hatchback and Mirage G4 sedan are the first in their price class to offer support for Apple CarPlay and Android Auto. So Mitsubishi is letting site visitors connect their smartphones to take control of the Mirage G4 on a beautiful, mysterious and sleek midnight racing track.
After entering a unique URL, the user takes control of an interactive film, using intuitive kinetic gestures to move the car through various scenes. Features like the rear view camera, turning radius, Hill Start Assist and MPG are highlighted.
At the conclusion, the driver is assigned a Personality Type (such as "Wallet Watcher," "Learner's Permit" or "Mirage Master"), and also gets a highlight reel of their performance in the form of a shareable GIF.
The music in this experience is exclusively scored by the LA-based DJ and electronic artist, Nosaj Thing.
Kimberly Ito, Advertising Manager, Mitsubishi Motors North America said, "Not only are they among the best in the industry for MPG and warranty, the 2017 Mirage and All-New Mirage G4 are packed with unique features at extremely competitive starting prices. We wanted to provide an experience where people could test drive all of these features in an innovative way that was true to the brand, and 180LA has delivered a unique idea."
William Gelner, Managing Partner/Chief Creative Officer, 180LA added, "We wanted to rethink how feature demos are done. Since these cars come with full smartphone connectivity, it made sense to demo its features in an interactive second screen experience. Through intuitive kinetic gestures on their phones, users can take control of the car and have fun digitally kicking the tires."
Source: Campaign Brief Asia