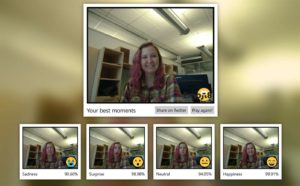 Microsoft has released a new app that aims to demonstrate how its Windows Machine Learning APIs can be used to build apps and "make machine learning fun and approachable."
Emoji8 is a Universal Windows Platform (UWP) app that uses machine learning to determine how well you can imitate emojis. As you make your best efforts to imitate a random selection of emojis in front of your webcam, Emoji8 will evaluate your attempts locally using the FER+ Emotion Recognition model, a neural network for recognising emotion in faces. You'll then be able to tweet a gif of your top scoring images.
"This app will give you a great end-to-end example of how you can use the Windows ML APIs to create simple yet magical experiences," the company said. And it has made Emoji8's code open-source on GitHub.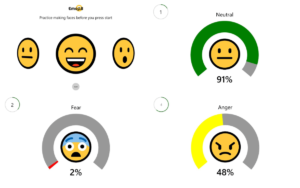 This isn't the first time Microsoft has built an app to show off its machine learning services. Back in 2015, it released How-Old.net to demonstrate how its Azure APIs could be used. The site let users upload a picture and from there, it would try to guess their age.
You can download Emoji8 from the Microsoft Store now, just make sure you're using Windows 10 with the October 2018 update.
Source: Engadget