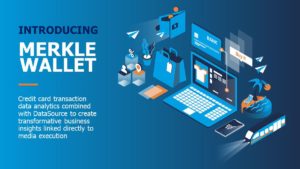 Merkle, a leading technology-enabled, data-driven performance marketing agency, announced the launch of its proprietary transaction data analytics tool, Merkle Wallet, in the UK market.
Merkle Wallet offers clients access to the most comprehensive set of UK consumer spending insights available to brands. It is powered by the broadest industry view of credit card transaction data across the UK and augmented by insights from DataSource, Merkle's market-agnostic data platform.
By creating this central data hub, Merkle Wallet enables clients to understand detailed online and offline consumer spending patterns (including seasonality, average transaction value, and frequency of spend) for both their own brand and key competitors.
It can also be used to understand behaviours in other non-competing sectors or across consumer travel spend. By linking these wallet behaviours with DataSource (for CRM/Analytics) and M1 (for media activation) Merkle has created a more powerful and customisable dataset for brands.
The launch comes as consumers are demanding an increasingly personalised and highly-relevant brand experience. By enabling clients to link business strategy with audience strategy, using insights based on real-world transaction behaviour, Merkle Wallet helps streamline marketing efficiencies whilst simultaneously driving long-term customer value.
Nick McCarthy, SVP Data Solutions, Merkle EMEA commented: "Our clients understand that they must deliver a truly people-based marketing strategy if they want to maintain "share of wallet" or drive customer lifetime value in an increasingly competitive landscape. However, market pressures mean that business leaders can no longer justify isolated data spend which doesn't translate to growth across the entire business and a more unified consumer experience. By connecting previously disparate data on consumer spending patterns into a central hub, Merkle Wallet enables clients to generate actionable business, operational and marketing insights, and differentiate their customer experience, deliver business growth and improved marketing ROI."
Source: Merkle