Headspace,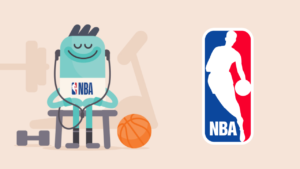 the guided meditation app that has raised $75 million from investors, has reached a partnership deal with the National Basketball Association that brings meditation to the NBA family by providing all league and team employees, across the NBA, Women's National Basketball Association (WNBA), NBA G League and NBA 2K League, access to Headspace's popular app.
As part of the partnership, the NBA and Headspace will co-develop mental training content on the Headspace app this summer, specifically designed to better prepare athletes at all levels for competition. To further bring this partnership to life, Headspace will also conduct events across the NBA, ranging from league employee wellness programs to mindfulness sessions with NBA team staff.
"The focus in sports training has often been exclusively on physical conditioning, but as top athletes at all levels have increasingly learned, mental fitness is also a critical determinate of success," said NBA Commissioner Adam Silver. "The NBA is committed to promoting healthy living and we are pleased that through our partnership with Headspace, we are able to provide the NBA family with a resource to support mental wellness."
Headspace co-founder and CEO Rich Pierson said, "Mindfulness training allows us to be more aware of ourselves and to be more in the moment. We are thrilled that the NBA recognizes this and has chosen us as their partner in this space. Making meditation part of your training strategy can help anyone quickly recognize when they've been distracted, regain focus and get their head back in the game."
Additionally, throughout the NBA-Headspace partnership, league and team staff will have access to Headspace's comprehensive library of meditation content, including "Headspace for Sport," which is designed to strengthen their mindfulness and meditation skills through a variety of 10-session "packs," including Motivation, Concentration, Training, Competition, Communication, Analysis and Recovery.
Source: Headspace