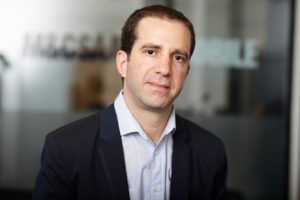 When James Hilton left his job as marketing director of Weight Watchers in 2006 to start a mobile advertising business, Inside Out Mobile, he was told by his colleagues he was crazy.
Four years later his once small company was bought by M&C Saatchi to become M&C Saatchi Mobile, and today plays in an industry set to be worth US$41.9 billion in 2017, according to Gartner analysts.
M&C Saatchi Mobile launched in Australia in 2012 after opening offices in London, New York, Los Angeles, Paris, Cape Town and Johannesburg. It recently opened offices in San Francisco, Singapore, Delhi and will be expanding again in the US in coming months.
With mobile-first clients, including Audible, Sportsbet, Microsoft, HotelsCombined, Carousell and IHeartRadio, Hilton its moto is to continue to push boundaries in the mobile ecosystem and condemns those who use the "spray and pray" approach on the platform.
Here Hilton predicts the five trends for mobile advertising in 2017:
1. Operators to fight back
Telecommunication operators have been robbed of their power as apps, such as WhatsApp and FaceTime, have commoditised the price for calls and texts. Hilton says in 2017 we will see companies like Telstra and Vodafone draw the battle line around data.
"Operators have missed the boat," Hilton says. "Their walled gardens are finished – they've been commoditised and they want to get some money back and flush their ecosystems with cash again. So many services have gone over the top of operators and because of that, the operators are going to try and own the data market. They are looking at how they can drop things to Wi-Fi servers without customers knowing and get back into the action."
Hilton says that once the industry cracks the data piece, mobile ecosystems will grow even further.
"Operators are going to fight to retain data because they have been hit in so many areas. Data is the only thing they own now. Unrestricted data to everyone is the real game changer – but they will work against it," he says.
2. Technology battle will reshape market
Samsung's recall of the Galaxy Note 7 earlier this month cemented the product as one of the one of the biggest tech flops in recent history. Enter Google Pixel and it's multimillion-dollar marketing campaign and the mobile handset market is set for a huge shake-up that will continue into 2017.
"Samsung has really dented the Android operating system and because of the PR backlash surrounding the exploding phones, iOS' prominence will grow. People who were using Android will shift back to iOS. Google Pixel will try to balance that out.
"When it comes to technology we've advanced so far with the iPhone. The change between each one now is minimal and it's becoming harder to make major changes. What is a game changer for technology is in battery life – if a company can get that right, they've won."
The latest iOS 10 update provides users the option to null the IDFA (iOS Advertising Identifier), enforcing complete anonymity of the person to advertisers. Thereby it could be in mobile advertisers' best interests for Google Pixel to make its mark in the industry and fix Samsung's damage on Android.
3. Using advertising armour against adblocking
The adblocking epidemic is a concern that has made waves around the world. Hilton believes it's up to marketers to use advertising "armour" to combat adblocking – because it's not going away.
"Adblocking is an issue that is going to keep on rumbling. But it comes back to creative. The better we use our armour, the more it will take the wind out of the sails," he says.
"Because mobile erupted so quickly, there have been certain errors made by the industry. People weren't playing by the rules but that is changing and advertisers are beginning to think of consumers as clients."
Hilton says if the industry can use its armour of targeting and good creative, then it can work to reduce the impact of adblocking.
4. No more spray and pray
Everything has become about personalisation today and customers expect their experiences to be tailored to them as such. In order to get the quality users that advertisers want, focusing on targeted advertising is a priority in 2017. The more targeted an audience is, the more successful an ad campaign will be.
"Where we got it wrong was with the spray and pray approach – it doesn't work with digital. What we need to do is use our armour of data to come up with smarter advertising that is more relevant. Looking at the mobile industry, there should be fewer, richer ads that are targeted to the right demographic at the right time. What we shouldn't be doing is throwing ads out there. It's not about getting an ad out to millions of people every day, but getting fewer ads as possible to the people that want to see it."
5. Bandwidth
Bandwidth has long been a point of contention Down Under, with Australia falling to 60th in global internet rankings earlier this year.
Hilton says an advance in bandwidth globally provides an obvious opportunity to become more creative and create richer ads. However mobile advertisers have to be mindful when creating rich ads as it will increase rates of adblockers if it eats too much data.

Source: Adnews