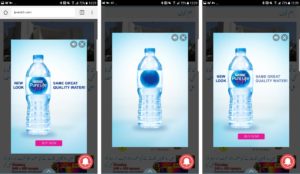 Global communications agency Maxus and mobile video optimisation firm AdSpruce have partnered to deliver a mobile web campaign for Nestlé that mixes creative design with cutting-edge rich media technology.
The campaign, which ran in Pakistan, focuses on driving awareness for the new Nestlé Pure Life brand identity, and utilised AdSpruce's technology to create a 3D render of the Nestlé Pure Life bottle with a new design, which was then animated and placed into a vertical video ad spot, delivered through AdSpruce's publisher network.
"We wanted to move beyond conventional digital creative in order to catch the eye of the consumer and bring the new packaging to light" said Khurrum Zia, business executive officer for Nestlé Waters Pakistan. "AdSpruce gave us the option of creating a 3D image of the bottle that was mobile-optimised to display easily across all types of mobile phones and bandwidths. This allowed us to tap consumers in an engaging way, which is reflected in the results."
The campaign was delivered through AdSpruce's network of premium publishing partners in Pakistan, which include tune.pk, Daily Pakistan and Hassan Nisar. Following the success of the Nestlé campaign, the firm is expecting to see a growth in similar mobile rich media campaigns in the area.
"AdSpruce is proud to be working with Maxus PK and Nestlé on this campaign and future campaigns, as all three of us share the same vision to create and deliver great looking ads that engage users and drive awareness," said Ian Mullins, CEO of AdSpruce. "By utilising AdSpruce's creative and technological capabilities I believe that we'll be able to fulfull this vision for years to come."
Source: Mobile Marketing Magazine