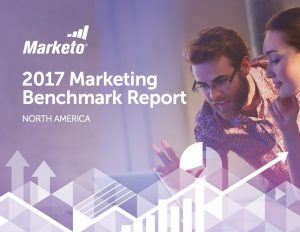 Marketo, the leading provider of marketing software and solutions, released its inaugural Marketing Benchmark Report, a survey that measures the marketing maturity of today's marketers – from how they think about strategy to how they execute campaigns and use technology, such as Marketo's Engagement Platform, to make it possible. While marketers are making great strides in their marketing maturity – with more than 60 percent having six or more technologies in their tech stacks – there's still room to grow.
Additional top insights from the survey across each vertical include:
Marketing Organization & Technology
68 percent of marketers have a strategic plan for their MarTech stack to ensure that they have a robust, open platform to share data and integrate with other technologies.
96 percent of marketers surveyed believe that it is critical for a new vendor to be able to integrate with their existing technology.
Lifecycle Marketing
39 percent of marketers devote less than a quarter of their budget to customer engagement programs, and more than two-thirds of marketers do not have customer referral programs. While the emphasis is on customer acquisition, marketers are beginning to understand the significance of engagement marketing and how this approach will become critical to all marketing strategies.
Usage and Effectiveness
44 percent of marketers find that having relevant content for each audience is the biggest challenge to scaling their program effectiveness.
More than a third (34 percent) of marketers are practicing account-based marketing (ABM). As this figure rises, marketers will need clear strategies to overcome the challenges of implementing ABM, such as sales and marketing alignment (24 percent of respondents cited team alignment as the top challenge).
Multi-Channel Strategy
Marketers must embrace a multi-channel approach to engage with today's empowered buyers and ultimately drive revenue for their organizations. Only 42 percent have a mobile-optimized website, and 26 percent are incorporating mobile advertising into their mobile marketing strategy, even though many marketers do not identify as mobile marketers.
From these findings, Marketo identified opportunities for marketers to address common challenges of global marketing and advance their marketing strategy and maturity. Among the opportunities presented, marketers must abandon siloes and adopt Centers of Excellence (COEs) that help remove inefficiencies, foster collaboration, reinforce a consistent brand identity, and ultimately, improve the customer experience.
As mobile and social advertising become more advanced, budget allocations will shift toward these digital platforms, and the multi-channel strategy will be made more robust. The most important thing marketers must remember as they expand their multi-channel strategies is that they know where their customers are and how best to engage them.
Methodology
The 2017 Marketing Benchmark Report—North America was developed by Marketo based on the results of a Q4 2016 survey. This survey was sent out to contacts within the Marketo customer base, from different company sizes, functional areas, and industries. The results of this report are based on the answers of 1,363 customers, both practitioners and executives, who responded across these segments.
Source: Marketo