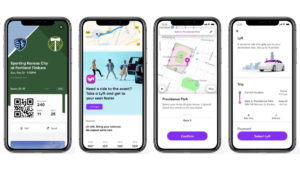 Lyft wants to make it easier for people to get events on time and with the minimum effort. The ride-hailing firm has penned a deal with SeatGeek to enable Lyft users to be able to book rides through the event ticket marketplace's app.
Not only do users have the ability to book rides through the SeatGeek app but they can also send their seat location to Lyft in doing so. This means that drivers are able to drop riders off nearer the entry gate they require rather than at a default location near sports games, concerts, or other events – saving time on wandering around a stadium to reach the necessary seats.
"Many music and sports fans are already taking a Lyft to watch their favourite entertainer play and their favourite athlete score the game winning goal," said Amy Fox, head of business development and strategic partnerships at Lyft. "Lyft teaming up with SeatGeek will make those fans' game-day experiences even better."
The feature will first be available to football fans travelling to Providence Park to see Major League Soccer side Portland Timbers in action.
Source: Mobile Marketing Magazine