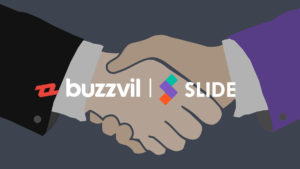 On of the world's largest mobile lockscreen media platform, Buzzvil, a member company of the K-ICT Born2Global Centre, announced it has acquired India and Pakistan's leading lockscreen content curator SlideApp as part of its effort to tighten its grip in the global mobile ad market. Financial terms were not disclosed.
John Lee, CEO of Buzzvil, said, "By taking SlideApp under our wing, Buzzvil is able to onboard excellent developers and continue to scale its geographic reach not only in the Asian, European and the U.S. market, but also India, Pakistan and the Middle East."
SlideApp made a grand entrance in India, Pakistan and the Middle East by hitting more than five million downloads within just 12 months of its launch in 2016. The app allows users to get rewards for reading content on the mobile lockscreen, a cost-efficient marketing tool for businesses.
The SlideApp team members also have a history of successfully exiting their previous company, Ultra Caption Corp., in 2014 to Kakao, the operator of South Korea's dominant mobile messenger KakaoTalk, who acknowledged their technical achievements and skills. At Ultra Caption Corp., the team members had launched a slew of applications including a dating app translated as "I Want to Meet Your Friend, Not You" which reached more than 1.4 million downloads.
"The SlideApp's team, equipped with global experience will join Buzzvil, further propelling the company's drive to move mobile lockscreen advertising forward and shape the mobile advertising landscape worldwide," John said.
This is Buzzvil's second deal since the acquisition of New York City based startup, Slidejoy, which rewards users for putting news and advertisements on their mobile lockscreens, in 2017. Slidejoy offers mobile users rewards in exchange for allowing ads on their lockscreen.
Buzzvil, backed by Softbank Ventures, focuses on its B2B business, BuzzScreen, based on its internationally patented SDK (Software Development Kit) which provides white label lockscreen mobile applications for publishers so they can generate additional revenue and enhance user engagement.
The company displays 5.4 billion monthly impressions in 30 countries, from more than 50 publishing partners. Its main advertisers include eBay, Samsung, Adidas, Toyota, Jaguar and BMW.
Source: Buzzvil