Wrestler and actor Dwayne 'The Rock' Johnson has launched a new app that aims to combine an alarm functionality with motivational content that helps users reach goals and provides them with daily video content direct from the star himself.
The Rock Clock is a free app for both iOS and Android. Upon first being opened, the app prompts users to enter a goal, either one with a strict timeframe or a more long-term, day-to-day aspiration, as well as a time for daily alarm.
The alarm provides users with a choice of a number of custom sounds created by Johnson, which range from him singing "good morning sunshine" to a mashup of noises made by his dog, Hobbs.
Users can also select to wake up at 'Rock Time', which sets their alarm to the same time as Johnson on any given day, although if users do this, they should expect to be up before 5am most days, and the alarm was deliberately designed without a 'snooze' function.
As well as the alarm functionality, the app will deliver motivational videos filmed by Johnson directly to users, and the star has claimed he will be using the app to check in on individuals' progress towards their goals.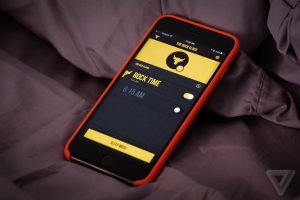 "We've spent over a year engineering this app for you," said Johnson in a Facebook post announcing the apps release. "Our goal was create a free, direct, uncomplicated, cool, motivating app to help us all get after our goals and chase greatness. I also wanted to totally disrupt the traditional 'morning alarm' system we all use on our phones."
The Rock Clock is the second product created by Project Rock, Johnson's business venture. The first saw Johnson partner with sportswear brand Under Armour to design a gym bag which sold out within minutes. Johnson boasts over 100m followers on social media, and was recently included in Time's 100 Most Influential People for 2016.
Source: Mobile Marketing Magazine