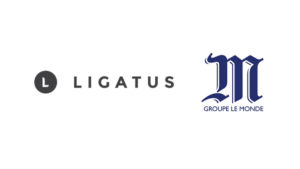 The Le Monde Group has signed a global partnership with leading native advertising solutions provider, Ligatus in a bid to provide a more transparent sponsored content service to its users across a variety of platforms.
Following on-going consolidation of its advertising requirements, the Le Monde group will utilise Ligatus' native ad formats across its premium media brands including; Le Monde, L'Obs, Huff Post (in France only), Télérama, Courrier International, and La Vie.
As native ad spend is expected to reach €13 billion across Western Europe by 2020, premium publisher Le Monde has selected the leading Native Advertising Solutions provider Ligatus because of its quality offering. Through innovative non-intrusive ad formats and careful placement, Ligatus provides tailored and contextual advertising alongside publisher content, while guaranteeing brand safety. Furthermore, Ligatus has built a successful network of high-end publishers thanks to the efficiency of its innovative technology and the integrity of its advertising portfolio, which has long banned fake news and other clickbait advertisers.
With the rising focus on providing a transparent and engaging user experience, Ligatus and Le Monde are very much aligned with their mutual commitment to the clear identification of advertising.
Julien Laroche-Joubert, Director of Digital, at Le Monde group explains: "We're delighted to be working with Ligatus, as they make an excellent partner and share our premium brand values. By joining with a service provider that is committed to providing high quality advertising, this will facilitate the Decodex – a tool developed by the Le Monde editorial team – in aligning itself with players that uphold the highest standards." "In addition, the service offered by Ligatus will stand out from other content that Le Monde recommends in their in-feed and at the end of its articles, with a different branding and clearly labelled "sponsored content" and "advertising". We are satisfied with this agreement, which seems balanced and is respectful of the values of the Le Monde group."
Véronique Pican, General Manager, Ligatus France comments: "Ligatus has for a long time been working to achieve sustainable advertising development. We are delighted to be associated with the largest French news media group by providing them a premium, transparent and selective network with our proprietary technologies.
"Together, we respect the importance of raising industry standards through initiatives such as the Coalition for Better Ads. By connecting premium publisher content and improved user experience – especially on mobile – we will create a better relationship between the brand and consumer. Brands no longer have to choose between power claimed by social platforms and quality context. Through this partnership, Ligatus has once again underlined its position as a leading player in the online advertising space."
Source: Ligatus