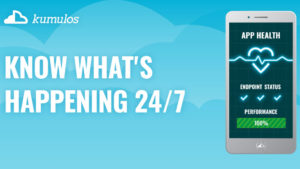 Kumulos, a leading mobile app performance management platform, has further strengthened its dominance of the fast growing Mobile APM market by adding multi-location API endpoint monitoring to its crash reporting feature.
This provides customers with the world's most advanced mobile app management platform. It's the only fully integrated platform that lets you manage the technical and commercial performance of mobile apps. All from a single pane of glass.
Kumulos API endpoint monitoring checks the status of any internet accessible end-point such as the many API endpoints that every serious mobile app relies on to work properly. It checks every 5 minutes 24/7, 365 days a year from 5 geographic locations around the world, to make sure the service is up, responsive and most importantly delivering the JSON payload that the mobile app is expecting.
Extensive research carried out by Kumulos before the feature launch showed that, for apps more than 6 months old, up to 68% of issues affecting the performance of a mobile app were caused by problems with API services the app relies on. Often these services were not in the control of the mobile app development team, being provided for them by corporate IT functions, yet often the app developer is on the hook for the overall app performance.
Now, with Kumulos API endpoint monitoring they can easily see where problems lie and often head them off before any app users are impacted.
The Kumulos APM platform comes with a comprehensive range of services covering the entire life cycle of the app. Its 5 integrated services include app store optimisation, analytics & reporting, backend hosting, crash reporting & endpoint monitoring and its award winning push notifications service, which received awards from Business of Apps, Mobile App Daily and The Tool.
It provides a management console that delivers comprehensive visibility on how the app is performing technically and commercially, and the features, such as push notifications and app store optimisation to deliver better results from the app.
By adding API endpoint monitoring to the Kumulos AMP platform you can get visibility of any API without touching the app code. This allows developers before they have started to build an app to assess the stability of the endpoint
Source: Kumulos