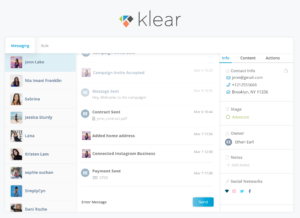 Klear, the leading influencer marketing technology company, announced Klear Connect, a complete solution for influencer campaign management.
Connect streamlines communication between brands and influencers by automating manual processes throughout the influencer program life cycle with an integrated chat service and the ability to collaborate on content, and track payments and Instagram Stories. The new solution enables brands to enhance influencer relationships and campaign success.
Connect Offers Brands the Capabilities To:
Track Instagram Stories
Directly share campaign briefs and content collateral
Send bulk messages
Verify payments and sign contracts
Track links and campaign conversions
"Managing the day-to-day activities of an influencer campaign can be challenging for marketers, especially when brands have multiple campaigns running simultaneously," says Eytan Avigdor, Klear CEO and Co-founder. "We created Klear Connect to streamline the process so that marketers have all their campaign needs in one place, allowing anyone to manage the entire process from start to finish directly from the Klear platform."
Klear's solution is an interface connecting brands and influencers; Klear Connect was developed to address the CRM needs of users by enabling transparent communication.
Connect provides brands with brief templates of common brand guidelines, deliverables, and expectations so that both parties can align goals. All materials can be shared directly with the influencers via the Klear Connect integrated chat service, while progress can be tracked with real-time notifications.  
Additionally, brands can invite influencers to authenticate their Instagram account, allowing for tracking of Instagram Stories. Thus, simplifying the influencer management campaign cycle.
Source: Klear