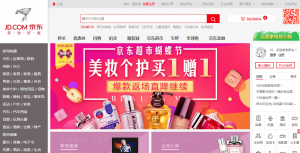 Alibaba's eCommerce rival JD.com (Jingdong Group) has joined forces with Zebra Technologies, a manufacturer of marking, tracking and computer printing technologies, and Chinese integrated IT service provider Digital China, to develop a lab dedicated to the internet of things (IoT) and eCommerce logistics.
The 'IoT + E-commerce Logistics Lab' is in Beijing's Shunyi district. The research and development facility has been established to focus on logistics management, data collection, mobile computing, machine vision, cloud computing, and IoT.
The trio say it will enable them to carry out research and development, prototype implementation, test and evaluation, and application demonstrations – with the aim of furthering boosting the 'capabilities in logistics services as well as increase enterprise efficiency and productivity' of JD.com.
"For more than a decade, JD.com has continuously invested in logistics technologies and accumulated rich experiences in technology operations and management, collaborating long-term with leading companies in the industry, such as Zebra Technologies and Digital China," said Bing Fu, VP of Jingdong Group and head of logistics, planning and development for Jingdong Mall.
"We look forward to the potential of this lab with Zebra and Digital China and share breakthrough technologies in the logistics field to achieve win-win outcomes."
Source: Mobile Marketing Magazine