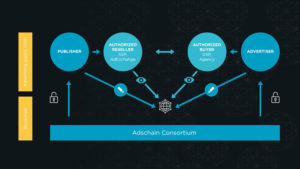 S4M, Futurs.io, Dentsu Aegis Network's digital performance agency iProspect, Smart and Mondadori MediaConnect is launching the "Adschain Consortium" to address the persistent fraud in the programmatic supply chain. This ambitious alliance will apply blockchain technology on industry transactions to bring more transparency for all the stakeholders.
Online advertising fraud is estimated to cost the industry an annual loss of $17B USD. A source for this concern is the increasing number of intermediaries in the programmatic supply chain jumbled in between the publisher and the advertiser. This mirky ecosystem depreciates the value for everyone and transparency is lost at each level of exchange.
Adschain Consortium is a project aiming to address this persistent concern and was inspired by recent efforts, like the Ads.txt, to standardise the industry. This initiative to leverage the blockchain technology will bring more security to the entire programmatic supply chain by making the intermediary actors for each impression transaction transparent.
The implementation is simple, advertisers can declare a list of authorised buyers and publishers can also communicate an official list of authorised resellers. These authorised agents can automate reference to this open ledger before any transaction to validate legitimacy. Both supply-side platforms and demand-side platforms have access to the same information to eliminate unauthorised sellers or buyers in the programmatic supply chain. This distributed ledger protocol will be based on Ethereum to provides more transparency, trust, security and traceability to the entire programmatic supply chain.
The success of any blockchain technology application rests on a proactive participation from all the stakeholder. To build this proof of concept, the Adschain Consortium is currently selecting advertisers for test campaigns. The consortium is encouraging more active contributors and membership from across the online advertising supply chain to guarantee the success of this initiative.
Source: S4M