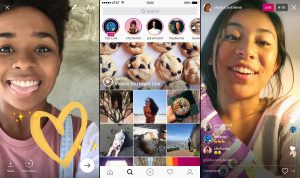 Instagram has added two new features, pushing it even closer to Snapchat by introducing disappearing photos and videos.
It's an add-on to Instagram Direct, the app's direct messaging function. Users will have the option of sending photos and videos taken with the in-app camera which are deleted after two views. If the recipient replays the content or takes a screenshot, as with Snapchat, the sender is notified.
This is the latest update to Direct, which now has 300m monthly active users, up from 80m a year ago.
The second feature, Live Stories, taps into Facebook's current push towards live streaming, while also pulling the same disappearing act.
As the name suggests, this is part of Instagram's Stories section – which has accrued over 100m daily active users since it first launched in August. The feature is also accessed from the in-app camera, and enables the user to broadcast live video for up to an hour. As with the Facebook equivalent, viewers can comment and like in real time – unless the sender chooses to turn commenting off.
When users are broadcasting, a 'Live' icon will appear under their profile photo in the app's Stories bar, and in some cases their followers may be sent notifications when they start streaming. Viewers can also find ongoing live streams through the app's Explore tab, which will collate a selection under 'Top Live', which can be browsed by swiping left and right.
Live Stories will begin rolling out globally 'over the next few weeks', following disappearing photos and videos which roll out today.
Both features will be available to business users as well as individuals, though as with any direct message, businesses will only be able to send disappearing photos and videos to users who already follow them.
Source: Mobile Marketing Magazine