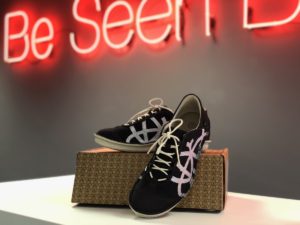 Ethically responsible UK shoe brand, Po-Zu has teamed up with South Yorkshire digital marketing agency, Ignition Search, on its latest project.
Currently collaborating with Star Wars on a co-branded collection, Po-Zu has appointed Ignition Search to manage its paid media strategy and support its further expansion into the global and US footwear market.
The campaign will use Google and Facebook to help grow the brand's presence online and promote its ethically sourced footwear ranges.
Dan Kavanagh, managing director at Ignition Search, said: "Po-Zu has been a truly innovative brand, really challenging the fashion industry. We're excited to be part of its journey. The breadth of digital knowledge and experience we have from working with some of the UK's biggest retail brands means we can complement Po-Zu's ambitions perfectly and drive forward its online success."
Po-Zu's venture into the Star Wars universe sees the shoe brand offering a range of footwear inspired by the films' lead characters. Boots modelled on those worn by Rey, Finn and Poe are available, alongside footwear made in the style of classic stormtrooper armour and sneakers inspired by details from the films.
The UK company, which has a major production site in Portugal, prides itself on using ethical sourced materials including a vegan-friendly range of shoes made from organic cotton, a pineapple leaf vegan alternative to leather called, pinatex, cork, Fair Trade natural rubber, and linen.
Source: Ignition Search