Igloo Energy,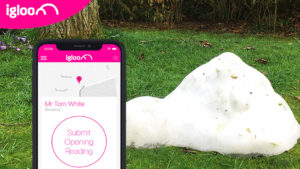 which uses smart technology to help customers use less energy and save more money, is today launching its smartphone app to make it easier for households across the country to stay in control of their energy usage.
Available on both iOS and Android, customers will be able to manage their energy accounts, take meter readings using the camera, and view bills. Households will soon be able to control their energy devices, such as smart meters and smart thermostats, and access insights on how to use less energy and save money on bills. As well as the app, customers are able to monitor their energy consumption and manage their accounts via Igloo Energy's website.
Igloo Energy's proposition is simple – by using less energy, customers pay less on their energy bills. This is achieved by combining Igloo Energy's smart technology with simple personalised advice to make households cheaper to run. Igloo Energy's smart meters measure a household's energy consumption every half hour, using algorithms to provide recommendations on how customers can cut back on their energy use.
Technology is at the forefront of Igloo Energy and the company works with the best breed of companies to provide its customers with smart devices. In September 2017, Igloo Energy launched the Tado smart thermostat which has already helped households to reduce their heating related energy consumption by 15-30%. Further smart home product releases are planned for 2018, including smart lighting, to help make it easier for customers to stay in control of their bills.
Igloo Energy was launched in response to the lack of switching currently seen in the UK energy market. Despite millions of pounds being spent promoting the idea of saving money by changing providers, just one in six people switched providers and tariffs last year. Igloo believes the number of people who can be bothered to switch is hitting a ceiling, and a new approach that promises ongoing sustained savings as a result of lower energy consumption is needed to reduce the bills of the vast majority of households.
Matt Clemow, CEO and co-founder of Igloo Energy, says: "For decades we've been told that to reduce our energy bills we need to switch regularly. But despite millions of pounds being spent on this message, UK households are becoming apathetic to that message as they see it as a temporary solution. Too many energy companies still use a "Tease and Squeeze" business model, where low fixed rates in the first year are replaced with high standard variable tariffs in subsequent years, penalising customer loyalty. We've built Igloo Energy as a new kind of energy supplier that delivers savings that stick, by using smart technology to help customers use less energy and save more money.
"In less than a year, we've got a 5-star rating on Trustpilot and our smart technology is helping households reduce their energy consumption by up to 30%. We believe our customers will find our new app just as valuable, and we look forward to developing our technology further to help even more households across the country save money and the environment by reducing their energy usage."
Source: Igloo Energy