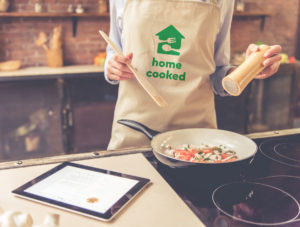 ClickTap Media (a division of Media Agency Group), has been appointed to oversee the digital marketing for app-based service Homecooked UK – which is revolutionising the food delivery market by offering freshly prepared and authentic home-cooked food from a variety of cuisines – made by local people from their own home kitchens.
The app is aimed at professionals, students and young families with limited time, but who are looking for a healthy alternative to a takeaway. It allows customers to select a variety of freshly prepared dishes which are made in the kitchens of local people – all of whom have been vetted to comply with health and hygiene standards.
Ricardo Seixas, head of digital at ClickTap Media said: "Homecooked UK is a new exciting on-demand mobile-first start-up with a unique proposition in the food delivery market and we're thrilled to support their team on bringing it to market starting with Liverpool and London using a mix of channels across digital to start with. We can't wait to be customers!"
Anestis from Homecooked UK said: "We are really excited to be working with the team at Click Tap Media. We are really impressed with the team's professionalism, knowledge and personal approach. They have a great understanding of our proposition and are very keen to assist us in achieving our significant growth targets. We are looking forward to establishing a long-term relationship with them."
The business was established by two business professionals, Anestis and Dimitrios and was born out of a mutual frustration when they struggled to find authentic tasting deliverable food, which had a respectable price point, and which was nutritious and healthy.
Homecooked UK is a healthier and more authentic food based-app service, compared to others on the market place. At present its app-based service can be accessed in London and Liverpool , but Homecooked UK looks set to widen its customer reach as the business scales up with further investment.
Source: ClickTap Media