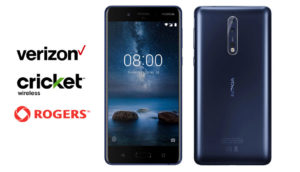 HMD Global, the home of Nokia phones, announced collaborations with three leading wireless providers in North America – Cricket Wireless and Verizon in the United States and Rogers Communications in Canada. This is the next step in the company's journey to offer great quality experiences to consumers across accessible price points and to work with best-in-class players in the industry for supreme purchase flexibility.
HMD Global is proud to continue to deliver on its reliability and durability promise through purposeful, distinct design with best-in-class materials and craftsmanship across the portfolio. Furthering this and providing greater options for consumers, it is also expanding its award-winning selection of Nokia smartphones on Android with the launch of two wireless provider-specific devices coming to the United States this month and another coming to Rogers subsidiary brand, chatr, in Canada very soon.
Nokia 3.1 Plus is the inaugural Nokia phone on Cricket's 4G LTE network that covers more than 99% of Americans, based on overall coverage in the U.S.1 and Nokia 2 V is the first Nokia phone on Verizon. Nokia 3.1 Plus gives fans two-day battery life , an ergonomically placed fingerprint sensor and NFC-enable Google Pay at an exceptional value. Nokia 2 V provides a beautiful, Nordic design with metallic accents and delivers long-lasting entertainment with a 5.5-inch HD display, dual front-facing stereo speakers and a two-day battery life. Each new device offers the durable and reliable craftsmanship that consumers expect from a Nokia phone.
Florian Seiche, Chief Executive Officer, HMD Global, said: "We are extremely excited and committed to build long-term strategic partnerships with the leading carriers in North America. Our Nokia phone promise is distinct and built on consumer insight – European design and craftsmanship, excellent quality, latest Android and purposeful innovation that enhances your everyday user experience. We want consumers in North America to love and trust their Nokia phones."
"Just over two years ago, on a global level, we committed to delivering reliable and durable Nokia phones through purposeful, distinct design. Since then, we have reintroduced iconic devices and a range of Nokia smartphones on Android, plus established imaging, software and manufacturing partnerships with the best in the industry. Thanks to fantastic consumer response, we are now proud to be in a position where we can expand our foothold in North America by partnering with some of North America's largest wireless providers," added Maurizio Angelone, Vice President Americas, HMD Global.
"In 2019 and beyond, we will continue to give consumers a versatile line up of Nokia phones they can use unlocked or with their preferred wireless providers. Our approach to operator relationships is not transactional — our users will see more devices at different price points launching with our prepaid and post-paid wireless prover partners and on the open market."
HMD Global has assembled an ecosystem of strong partnerships in imaging (with ZEISS Optics), software (offering a first-rate Android experience) and manufacturing. The result has been overwhelming consumer response to Nokia phones sold through Amazon, Best Buy, B&H and other partners. However, building devices for all types of consumers doesn't stop at manufacturing, it is of utmost importance to bring wireless provider flexibility to our fans across the United States and Canada. A natural next step in HMD Global's journey is to work with leading industry wireless providers.
Tiffany Baehman, Vice President & Chief Marketing Officer, Cricket Wireless, said: "We are excited to be the carrier of choice for the inaugural launch of Nokia phones in North America. The Nokia 3.1 Plus allows us to continue our commitment of offering consumers affordable wireless service matched with innovative, value-priced smartphones."
Brian Higgins, Vice President, Device and Consumer Product Marketing, Verizon, said: "Nokia is a brand synonymous with innovation and we are excited to once again bring Nokia devices into Verizon through our partnership with HMD Global. With the launch of the Nokia 2 V, we can offer prepaid customers a feature-packed smartphone with tremendous battery life at an affordable price."
Nokia 3.1 Plus will be available in Cricket Wireless stores and on CricketWireless.com from January 25, 2019 for a suggested retail price of $159.99. The Nokia 2 V will be available in Verizon stores and on VerizonWireless.com starting January 31.
Source: HMD Global