Google has launched another app exclusively in India, as it continues to put a lot of work into the region. The latest app, following the launches of its food delivery and home services app Areo and its mobile payments app Tez last year, is aimed at providing the answers people need to local questions.
The Q&A app is called Neighbourly. It enables users to pose a question to their neighbourhood, share their own local expertise to help others, and keep up with the latest goings-on in their area.
According to Google,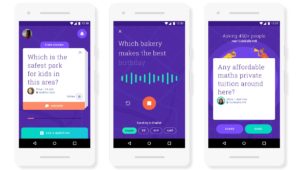 questions asked in the app get directed to relevant 'neighbours' so they can provide the most current and accurate information. Questions can be swiped through left and right, so users can skip over anything they are unsure about.
Users are also able to ask questions or give answers via Google's voice recognition in English and eight Indian languages. And personal details like phone numbers, full names, and other contact information are kept private on the app.
Neighbourly is rolling out in beta via Google Play in only Mumbai for smartphones running Android 4.3 and above. People outside of Mumbai can join Google's waitlist and can invite people from their neighbourhood to join them on the list too.
Source: Mobile Marketing Magazine