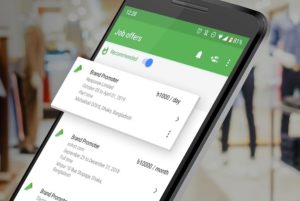 Google's internal incubator, Area 120, has launched an app aimed at helping young job seekers in developing countries to connect with employers and kickstart their careers. Kormo, which was initially launched in Dhaka, Bangladesh, has been launched in Jakarta, Indonesia.
Kormo enables job seekers in the above cities to build a digital CV, which automatically updates as they find work or enrol in training courses through the app. It displays open job listings in the city and recommends jobs based on the user's profile and skills.
"Job seekers told us that they weren't sure what jobs were available to them, as listings typically travel by word-of-mouth or aren't posted online," said Bickey Russell, GM of Kormo, in a blog post. "And though many of these seekers pay someone to create a paper CV (or résumé), their busy schedules and traffic congestion in the city makes it inconvenient to drop hard copies in employer CV boxes. Even after they apply, many seekers never hear back on the status of their candidacy."
The 'Learn' tab in the app is where job seekers can access free training content, including videos, articles, and courses, based on their interests. And Google is partnering with local businesses of all sizes to include jobs on Kormo.
Google says that it aims to roll out the app to more people in places like Jakarta and Dhaka, where it has matched over 25,000 people. The app is available to download in both of those locations for free via Google Play.
Source: Mobile Marketing Magazine