Google's latest app gives Android users the ability to control every aspect of their device in a purely hands-free manner using just their voice.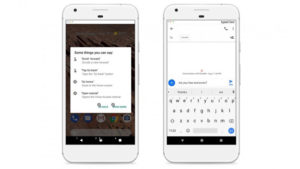 Designed to help individuals with health issues such as Parkinson's disease, multiple sclerosis, arthritis or spinal cord injuries – and those that have their hands full – Voice Access gives users the ability to navigate through apps, compose text, and talk to Google Assistant. Using voice commands, users can 'tap' buttons within apps and scroll through items on their device.
Once the app is downloaded, users can begin controlling their device using the well-known 'OK Google' phrase. Examples of commands available include 'go back', 'go home', 'click next', 'scroll down', 'type hello' (in text), 'what can I say?', 'open Gmail', 'turn on wi-fi', 'set a timer', 'stop listening', and more.
Voice Access has been made available through Google Play across the world. For now, it only supports English commands but Google promises additional language support in the future.
Source: Mobile Marketing Magazine