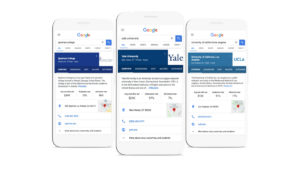 Google has expanded the features available to US students who are looking for more information about colleges. The college search feature, which was introduced last year, now includes a discovery feature to look for schools based on courses and location, two-year colleges, and popular certificate and associate programs that are available at four-year institutions.
The exploration tool enables students to explore colleges based on factors like fields of study or geography. This means that, for example, people can search for medicine courses in California.
Using the tool, users can compare costs, graduation rates, campus life, and other characteristics. It can also be filtered by specific location or distance, region, size, and acceptance rates.
Previously, Google's college search only provided information about four-year universities. Now, on mobile, two-year colleges will be included in the search, providing information about programs offered, cost of attendance, and more. Within this, Google will display the in-state tuition, as well as total cost with books and housing, to provide students with a better view of what they can expect to be paying.
To power the features, Google is using public information from the US Department of Education's College Scorecard and Integrated Postsecondary Education Data System. It has also worked with education researchers, experts, non-profit organisations, high school counsellors, and admissions professionals.
Source: Mobile Marketing Magazine