Coachella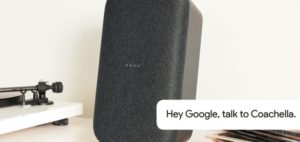 and YouTube have long been partners with the latter livestreaming the concert series. This year, the rest of Google is joining with an Assistant Action for Home and phones, while the Made by Google team is continuing its advertising blitz with Pixel photo booths.
A new Assistant app allows users to talk to the Coachella Valley Music and Arts Festival. Saying "Hey Google, talk to Coachella" on your phone or Home smart speaker will give you access to a feature-packed Action.
• Discover new artists: A music component allows users to listen to the discography of artists playing at the festival with "exclusive playlists to get you up to speed with the 2018 lineup."
• Create your festival schedule: Given the multiple stages and large lineups, Coachella can be hard to keep track of. The Assistant will allow you to ask for set times, with integration with the official Coachella app to manage your schedule.
• Get answers to festival FAQs: Besides performance times, the Action can answer questions about travel info, what's allowed into the festival, and more.
• Get the backstage experience: Meanwhile, those not attending, can listen to backstage interviews during the festival.
• Test your Coachella knowledge: The app also has a trivia game of memorable Coachella moments and performances.
Meanwhile, Made by Google is converting some of the gondolas on the iconic Coachella ferris wheel to "Pixel photo booths." Again promoting the Pixel 2's camera prowess, Google promises "iridescent backdrops for stunning selfies above festival grounds."
Lastly, YouTube is continuing its livestreaming partnership from April 13-15. Heading to Coachella's YouTube channel will allow you to watch all the performances. This year, VR180 streams will allow users to get a more real life experience, with select shows watchable from Google Cardboard and Daydream View.
Source: 9to5Google