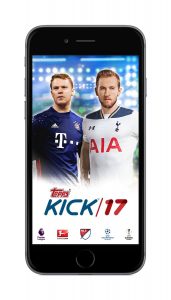 As soccer season is set to kick off, Topps is announcing its featured athletes and brand ambassadors, Harry Kane of Tottenham Hotspur and the German national team's legendary goalkeeper, Manuel Neuer of Bayern Munich, to be spotlighted on the Topps Kick® 2017 app.  Topps will be producing uniquely designed digital cards of these world renowned players in Kick 2017, the only real-world, real-time soccer trading card app.  New and exciting content released daily features thousands of players from every club in the Premier League, Bundesliga, UEFA Champions League, UEFA Europa League, and Major League Soccer (MLS).
"It's an honor to be on the cover of Topps KICK this season," said Harry Kane of Tottenham Hotspur. "KICK is an exciting new app with all the players from the biggest competitions and I hope millions of fans around the world enjoy collecting, trading and playing with my digital trading cards."
Topps Kick 2017 is introducing innovative features such as Topps Card Exchange, where fans can trade-in and upgrade cards instantly with or without the need for a trading partner. The latest updates in Topps Kickalso includes player experience levels to help sports fans keep track of their progress and compare their collection, trading, and accomplishments to fellow fans in an active and competitive online community. In addition to famed soccer players Kane and Neuer, Kick also captures the most memorable moments to be swapped and collected from a roster of soccer greats both past and present.  Fans have already collected more than 1.5 billion cards in Kick and opened more than 250 million packs.
"Kane and Neuer are largely recognized as two of the best soccer players in the world and we are honoured that they are representing Topps Kick," said Jeremy Strauser, General Manager of Topps Digital.  "Their talents resonate with fans across borders and generations so they are the natural fit for Topps Kick, our most global product."
Source: TOPPS