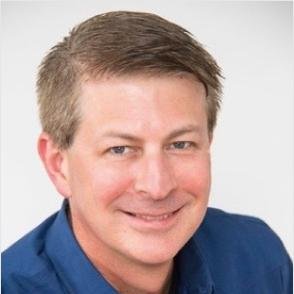 Haptics technology has existed for years in various forms, but is quickly gaining ground in the consumer electronics industry. A 2016 market report by Technavio estimates that the haptics technology market in consumer electronics will grow at a CAGR of 21.1% from 2014 through 2019.
We caught up with Josh Stivers, Director of Product Management at Immersion, one the leaders in the field, who gave us a quick introduction to the tech and how it will impact the marketing industry going forward:
Q) Give us a brief introduction of Immersion?
A) Immersion has led the way in haptic technology since 1993, recognizing early on that humans experience the world with all our senses and the power of touch can transform common daily experiences into memorable moments. Immersion powers haptic technology across multiple platforms in the Wearables, Gaming, Virtual Reality, Automotive and Mobile Video Advertising markets. Our innovation brings the power of digital touch to consumers through a variety of partnerships with companies such as LG, Lenovo, Teads, AdColony and Sabio.
Q) What exactly is Haptic Technology and how does it work? How is it relevant to the marketing and advertising world?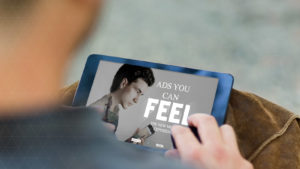 A) Haptic technology is the use of the sense of touch in digital devices to create tactile sensations that feel real. Immersion's proprietary software technology precisely controls the actuator or other device motors to render carefully tailored vibration effects – such as the roar of an engine or the impact of an explosion.
In a video or an advertising application, Immersion delivers a haptic track that plays back the tactile effects synced with the video in real time. TouchSense Ads use haptics to simulate real feeling and engage the user's senses of sight, sound and touch simultaneously. By adding in the sense of touch to video advertising, marketers can engage the user's attention and stand out in a noisy, crowded landscape. This sense of touch connects with consumers at a deep level in the same way that music impacts ambience and mood.
Q) Will users need any additional tech or downloads to support it?
A) The technology to experience haptics is already present in most mobile devices. Immersion delivers its proprietary haptic effects to mobile devices in real time using HTML5 and supports many IAB standard ad formats such as VPAID and MRAID.
Q) What made you expand the application of Haptics into the marketing and advertising world?
A) Immersion had seen early interest by movie studios and post production houses in applying haptic effects to theatrical content and movie trailers where the effects are particularly compelling for viewers.  In the hands of creatives, we saw haptics become not just a cool effect, but an integral part of the storytelling.  We also saw the very positive response to haptified content provided at last year's Cannes Lions event.
This prompted us to do further research on the effectiveness of haptics from a marketing perspective. The results of our research showed that applying tailored haptic effects to advertising increases ad performance and effectiveness. Since then we've expanded our capability to reach more consumers by partnering with advertising distributors and enabling our technology on mobile web video to make TouchSense Ads a compelling tool for reaching audiences.
Q) What are the social media implications for Haptics? How do you plan to apply it to features such as Facebook's pre-roll, etc.?
A) We are excited by the prospect of integrating haptic capabilities and tactile feedback in social media applications. We see great potential for haptics across a broad array of social media platforms – such as applying creative haptic effects to their favourite videos or images, similar to effects you see in popular sharing apps, haptic-enabled original user-generated content, tactile feedback in the application, which in turn will inspire Marketers to use haptics to communicate more effectively with their audiences.
Q) How do you see Haptics performing in this industry? Do you think it is here to stay?
A) Based on multiple third party user studies, the addition of haptics to video advertising has shown lifts in important KPI's such as engagement, brand favourability and purchase intent. The addition of haptics to mobile video is similar to adding surround sound to a movie. Once experienced, it becomes noticeable when absent, and users feel the experience is not as exciting and engaging.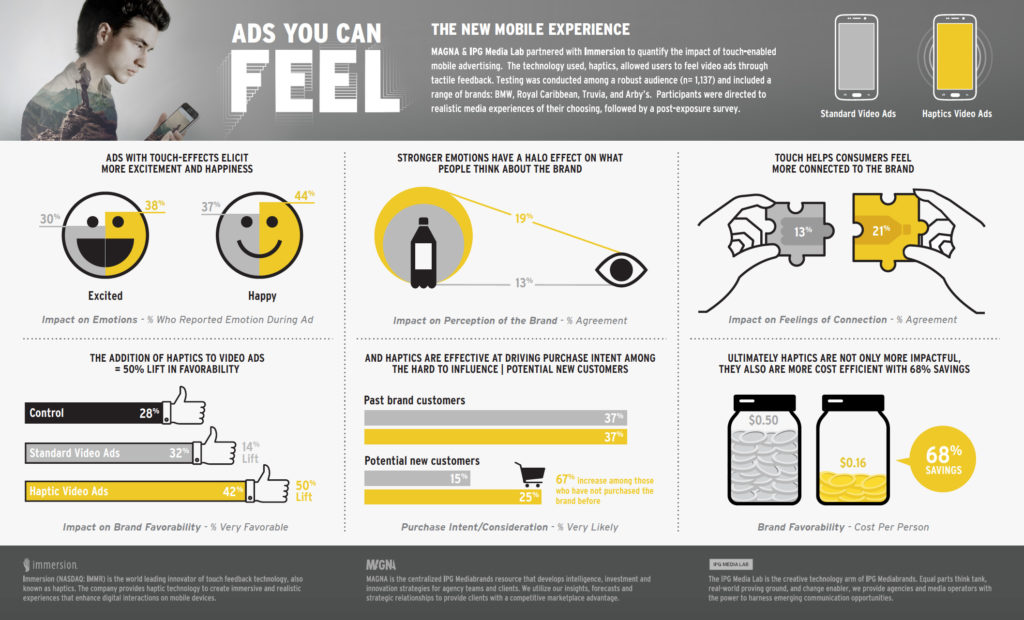 Q) Can you give us some examples of successful project that have used Haptics?
A) There are many different effective applications of haptics. Obvious implementations, such as high intensity, action orientated videos become even more exciting and fun with haptics. An example of this is the Jason Bourne movie trailer where haptic effects can be applied to the bumps, crashes and explosions of a car chase scene.
The Mummy movie trailer is another example of a highly intense and action-packed video with more creative types of haptics designed to help tell the story. Designed to create mood and drama, scenes with light haptics were followed by periods of quiet (no haptics), to strong bursts of intense effects. The haptic design effectively captured the overall intensity of the action-horror movie, creating a very engaging piece of content.
On the other end of the spectrum, we've designed haptic projects to appeal to the emotional aspects of the ad campaign. Because touch is uniquely connected to how people feel, haptics are effective influencing emotions.
Take the Arby's – We have the Beef ad campaign.  In the video, you can hear cheering off screen from a little girl. Haptics have been added to increase the excitement of her cheering on her Uncle Beef as he hits a golf ball into an Arby's cup. The overall impact is a more heartfelt ad creative that is memorable. Another example of this is a project we did for John Lewis Insurance for 2016 Cannes Lions Festival.
The video follows a little girl as she crashes through her parent's house in her unique dance. The destruction is felt through haptics as she spins lamps, rides a skateboard across the hall, and pulls on the window curtains.
Haptic designs are most effective when it is used to help tell the story of the video content to create a more immersive experience. It connects video to audio and brings together the entire experience.
Q) How does Haptics compare against and also complement existing immersive technologies such as VR and AR?
A) We believe haptics, or the sense of touch, will be an essential part of the VR experience and critical to this new medium achieving mainstream success. Whether it's a VR or AR experience, haptics helps the brain adapt itself in the digital environments through physical interaction and feedback, which is absolutely necessary to creating a truly immersive experience.
Q) Can you expand on your plan for Haptics at this year's Cannes Festival?
A) For the second year in a row, Immersion returned to Cannes Lions International Festival of Creativity as one of the event's featured technology.
At the event, Immersion showcased a TouchSense Haptic Video Gallery, alongside The Works exhibit area – where the awards were on display. This gallery exhibit included selected works from Cannes Lions 2017 award entrants. In addition to the Gallery, Immersion hosted workshops on Sensory Storytelling in its Cabana on the Croisette during the week of the Festival.