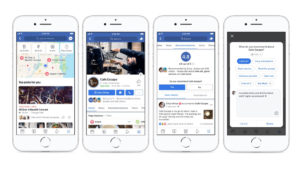 Facebook has made several updates in a bid to make it easier for people to connect with small businesses on the social network, including overhauling pages on mobile and expanding the jobs tool, among other changes.
With an update to pages, Facebook intends to make it easier for people to interact with local businesses and find what they need the most from that business. This means people can make reservations at restaurants and book appointments at salons within certain pages, as well as being able to see the most recent photos, upcoming events, and offers. Facebook has also added stories on pages and made recommendations more prominent.
In addition, the social network says it will continue to build 'Events', reporting that it has seen two times as many people buying tickets when they're sold directly on Facebook compared to when they're just sold on a third-party site.
Moreover, Facebook is expanding its job application tool all around the world and has introduced a 'Local' section within its app, as well as a standalone Facebook Local app, for users to browse businesses around them, see what places are most recommended, and check what events their friends are attending.
"These are more steps we're taking to make connecting with local businesses easier on Facebook. Because when businesses succeed, communities thrive," said Alex Himel, VP of local at Facebook.
Source: Mobile Marketing Magazine