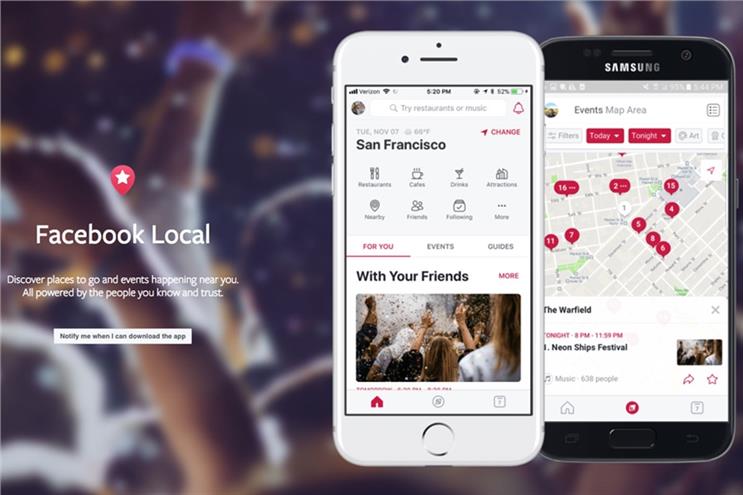 Continuing its quest to replicate business models and out-innovate the competition to be an ecosystem player, Facebook has relaunched its Events app.
Now re-branded as Local, the standalone app represents the social side of social networking, allowing users to find events that match their interests and proximity.
With 88% of its revenue stemming from mobile, Facebook's launch of another standalone app isn't surprising. The challenge will lie in turning this iteration into a success, an area Facebook has struggled with.
Split into three sections, the first section of the app grants users access to a home screen which includes a list of events happening in their vicinity. It also shows the events friends (from Facebook) have shown an interest in, split between those that have ticked "Interested" and "Going".
The second section of the app is a map-based search engine similar to Google Maps. By searching for a brand, product category, or activity, users will be prompted with location tags relevant to their search. Depending on what a user picks, an activity-based profile will be created, and in turn, offer the user suggestions of activities nearby for before or after their chosen event.
The third section is a calendar that syncs with the native app in a user's device.
As the app's popularity grows, likely marketing channels will mirror Google Maps, in that advertisers can bid for the highest viewed slot by location, event, or consumption theme in the search menu.
For now, advertisers charged with footfall-oriented businesses can use Facebook's under priced location-based marketing ads to target users near their outlets for promotions, deals, and even group activities such as scavenger hunts.
Source: Campaign Live