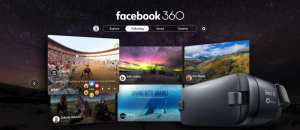 Facebook has launched its first dedicated VR app to bring 360 photos and videos its headset-wearing users. The app, called Facebook 360, is not a full version of the social network and will simply act as a hub for 360 photos and videos.
Available through Samsung Gear VR, powered by Oculus, the app will also enable users to pull up more information about the photo or video they are viewing, as well as react, save or share it.
"With more than 25m 360 photos and more than 1m 360 videos posted on Facebook to date, there's plenty of great content to discover in Facebook 360," said Facebook. "The app is a one-stop shop for catching up on what you may have missed from your friends and others you follow, diving into the 360 photos and videos you've saved, and finding something new to enjoy."
For the time being, Facebook 360 will enable users to explore 360 content across Facebook, experience content from people they follow, save content for later viewing, and relieve memories through a personal 360 photo and video timeline. Facebook promises more features are 'coming soon'.
Source: Mobile Marketing Magazine