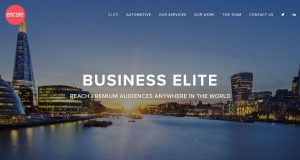 Encore Digital Media, the experienced programmatic partner, is launching Business Elite, a highly targeted global programmatic service designed for luxury brands. Based on four years' experience in reaching niche audiences for clients such as Investec and Fujitsu, Encore Digital Media can offer pinpoint targeting and advanced optimisation.
The carefully honed approach means Encore can target exact users, offering unique access to quality first party data sources and full insight and transparency to all clients, at a time when programmatic is very much under the spotlight. Now a 15-strong agency, Encore Digital Media, part of the Next Fifteen Group, already works in the luxe space for brands such as William & Son.
Business Elite core audiences are muc h more targeted than standard segments such as 'High Net Worth Individuals', and include new groups such as 'Active Investors' and 'Entrepreneurial Women'.
"We offer brands precision as we specialise in hard to reach audiences, and we've always ensured transparency," Guy O'Brien, Co-Founder of Encore Digital Media, commented: "With Business Elite we are focusing in on the really hard to reach but most relevant audiences for luxury brands. We can also offer brands – many of whom haven't worked with programmatic partners before – a regular, holistic view of impact and engagement and the ability to optimise quickly."
Launched in 2013 by Guy O'Brien and Daniel Shaw, Encore Digital Media has always worked with brands and agencies to engage hard to reach prospects, delivering highly targeted campaigns in premium digital environments.
Source: Encore Digital Media