Game On: EE launches its new online Game Store with a brand campaign inspired by iconic video games running across Broadcaster Video on Demand (BVOD), Online Video (OLV), Display, Social and Out Of Home (OOH) from 17th July
Your New Destination For Gaming: EE Game Store opens online today for all gamers, regardless of their network provider, to equip themselves with the latest gaming gear. Visit EE.co.uk/gaming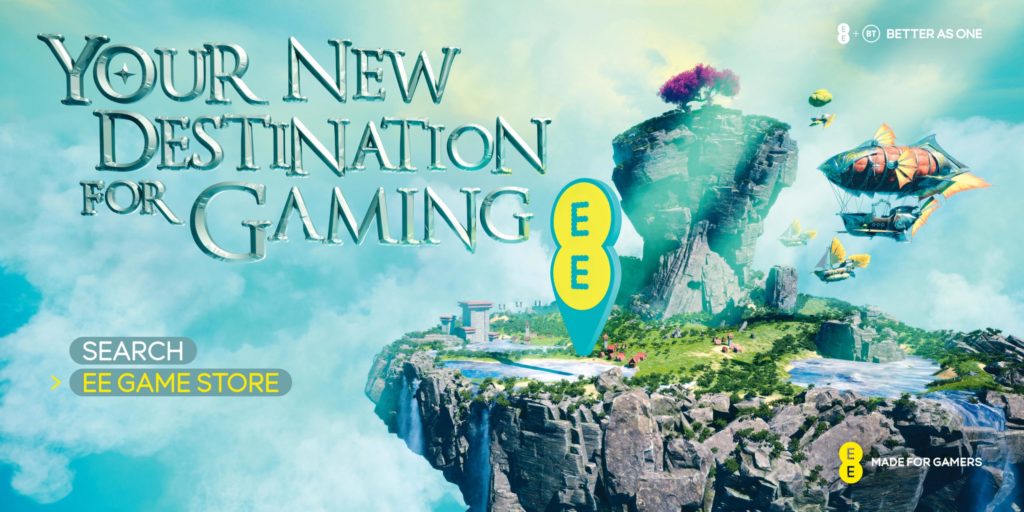 EE announces its new online Game Store with a multi-million-pound cross-channel campaign inspired by the iconic visual worlds found in the UK's best loved video games.
In the next step on its quest to become the UK's number one destination for gaming, EE is launching a colourful and dynamic ATL campaign featuring four spectacular 3D gaming worlds that use the same state of the art Unreal Engine technology in which the world's biggest games are built. Launching in the UK from today, across out-of-home (billboards and buses), social and display, the immersive creative features EE dropped as a pinned destination in, amongst others, a fantasy realm and a hellish underworld; a striking illustration depicting the new EE Game Store as the go to destination for UK gamers.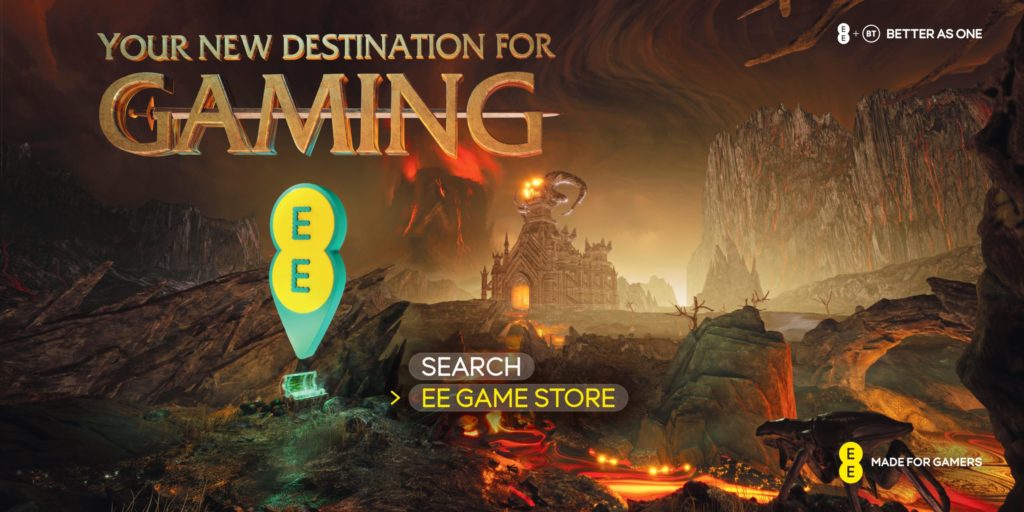 Driving gamers nationwide to the EE Game Store, the campaign showcases the breadth of EE's gaming propositions – from trade-in of old consoles for money off, to cloud gaming and exclusive gaming bundles. The adverts entice passers-by to check out the hardware available at the EE Game Store with the first branded QR codes integrated into campaign artwork and created by artificial intelligence.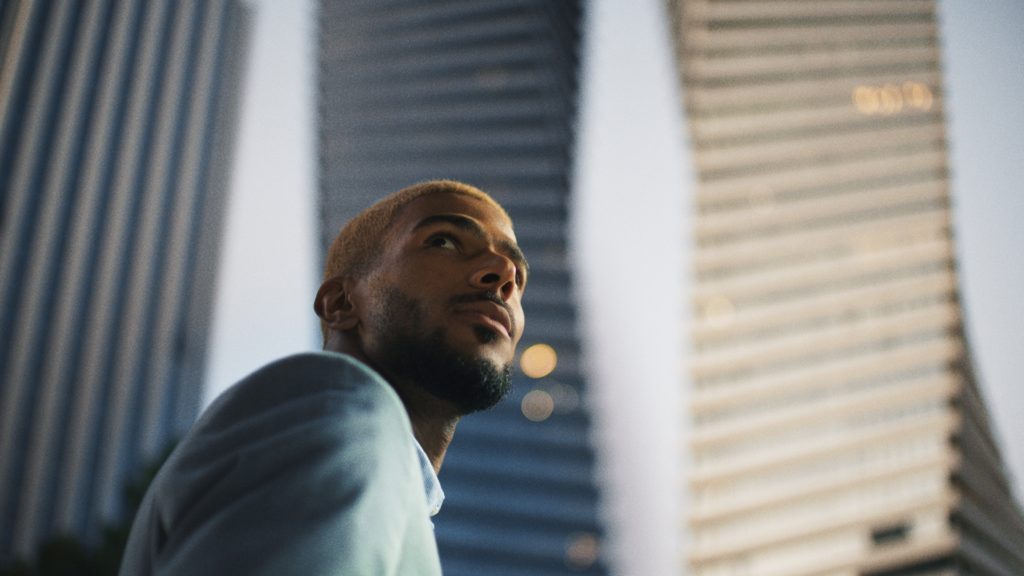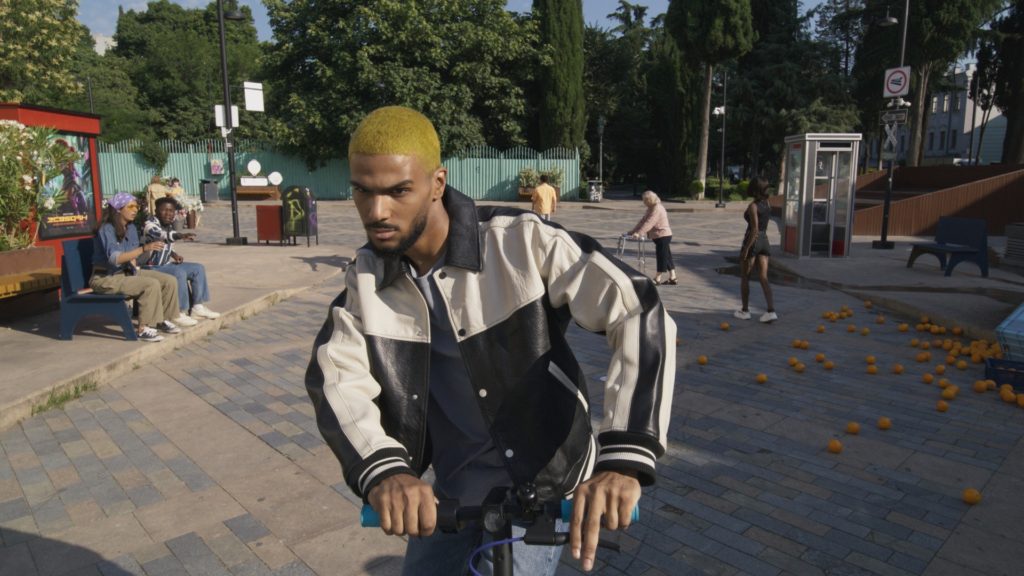 The accompanying online film, going live on the Thursday 27th July, takes the form of a hero's journey from the mundane reality of everyday office life to the exciting world of games. First, he spots a mirage of an island floating amongst the clouds with a glowing EE pin shining like a beacon; next he notices his reflection in a nearby window as it morphs into a series of avatars and the world around him evolves into a mixed reality universe, reminiscent of scenes from iconic video games As the audience moves into third person perspective, our hero starts to move like a video game character and non-player characters around him glitch into walls and play out scripted actions. Filled with gaming tropes and familiar camera moves, the viewer continues to follow our hero as he moves through a crime spree scene on his E-Scooter and into a racing game where he overtakes his rivals and crosses the finish line first, to the crowd's delight. Finally, he transitions onto a side-scrolling platformer in a foreboding factory, running and jumping until he leaps over the only thing still between him and his goal – a giant gap. He sees the bright aqua glow of an EE icon and heads into it, covering his eyes as he stands beneath the EE Game Store pin. The camera pulls back to reveal our protagonist is in the soaring skies he glimpsed before. Kevin Bacon's familiar voice interrupts: "Your new destination for gaming. The EE Game Store, all the games, all the gear, and it's now open for everyone."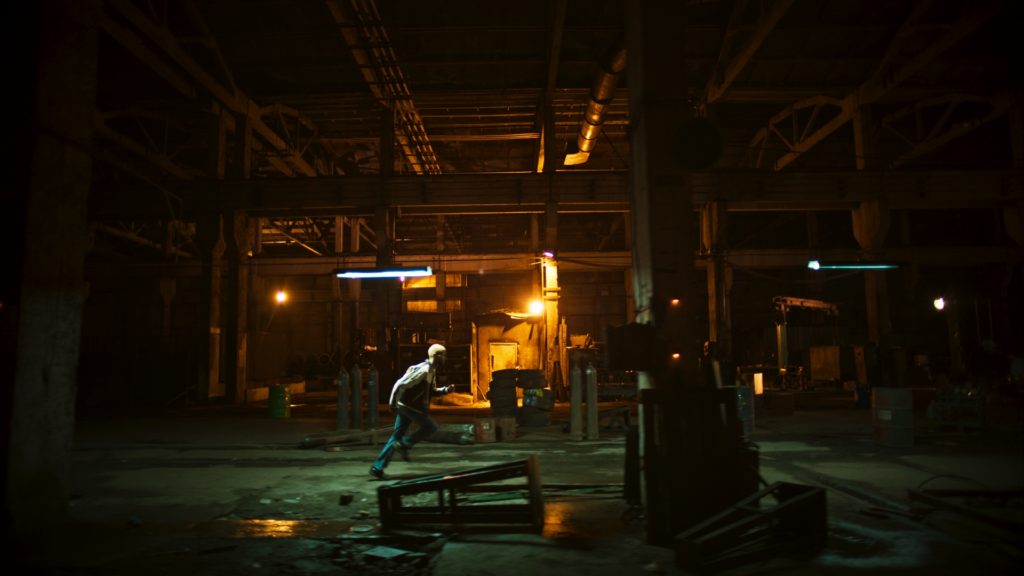 Pete Jeavons, Marketing Communications Director at EE comments: "The new EE Game Store adds another string to our bow as we continue driving forward our ambition of becoming the UK's number one destination for gaming. Taking cues from the games our customers love the most, this campaign lets gamers across the country, regardless of their network, know that there's a new destination for all their gaming needs."
Saatchi's Executive Creative Director, William John, said: "To launch EE's Game Store we had to show up authentically; from burying easter eggs throughout our AV, to creating our OOH in the very same technology games are made – this is a campaign that's truly inspired by and created for gamers."
The campaign was developed by a specialist gaming team formed from Digitas and Saatchi & Saatchi and goes live with a targeted online campaign from 17th July. Real-time 3D elements were designed and built by Collective. Planned and bought by EE's media agency Essence, the campaign will run across Broadcaster Video on Demand (BVOD), Online Video (OLV), Display, Social and Out Of Home (OOH).
The new EE Game Store launches online today;, perfect for anyone looking for the latest video games and gaming products. Available to anyone no matter what network they're with, the online store will offer bespoke gaming bundles, deals, interest-free flexible payment options and exclusive packages.
Source: Saatchi & Saatchi