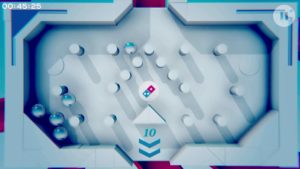 Domino's has made both a live and virtual Rube Goldberg machine for a campaign to promote its Piece of the Pie Rewards program, including a mobile game that helps hungry players earn rewards.
The 'Beautifully Easy' TV spot by Crispin Porter + Bogusky (CP+B) introduces the rewards program with a woman placing a pizza order on a phone, which starts the machine rolling around a Domino's employee making her pizza.
As the overly complex machine rolls along, it showcases features of how to build rewards points, like with Google Home or with an emoji in the store.
With its new game, Piece of the Pie Pursuit, players have another way to earn real-world points towards free pizza. It puts players in the centre of Domino's latest TV commercial as they navigate a virtual version of the Rube Goldberg machine.
Each section provides players with pizza-themed challenges – such as guiding a pizza cutter car along a boost-filled track in a race against the clock or using a pizza sauce 'spoodle' to catapult to new heights.
To entice new players, the chain explained the game with a brief how-to-play video:
Players who beat all six levels in the game will receive 10 Piece of the Pie Rewards bonus points. When customers reach 60 points, they can redeem them online for a free medium two-topping pizza. Members can track past purchases, earned points and redeemed points via their 'Pizza Profile.'
"This is the ultimate game for pizza fanatics," said Steve Kennedy, Domino's director of loyalty. "Not only does it have six types of unique gameplay to keep you coming back for more, but it also gives Piece of the Pie Rewards members a chance to earn real-world bonus points toward free pizza."
The mobile game is available for free download on iTunes or Google Play.
Source: The Drum