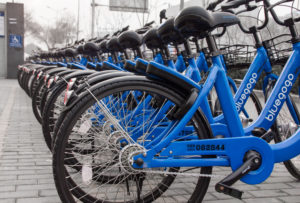 Chinese ride-sharing giant Didi Chuxing launched a bike-sharing platform within its mobile app on Wednesday.
Riders in Beijing and Shenzhen can use two popular shared bikes companies, Ofo and Bluegogo, via Didi's latest version of the app, with no deposit required for riding Bluegogo bikes.
Didi is an investor in Ofo, and it announced last week that it was taking on parts of Bluegogo's business, as the company had previously been undergoing financial difficulties.
Under the trusteeship of Didi, the Bluegogo brand name, deposits, debt and other related properties are retained by Bluegogo, while users will also have the option of converting Bluegogo deposits and privileges into Didi bike and car ride coupons of an equivalent value.
"Didi will upgrade its short-trip mobility strategy and provide various mobility options and better travel experiences for travelers on the 'last three kilometers,'" said Fu Qiang, Senior Vice President of Didi.
The company will work with local authorities and other partners to improve the bike-sharing user experience and expand the service to other cities.
Source: XinhuaNet