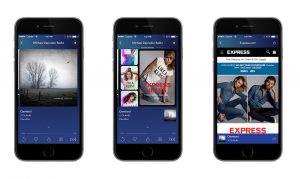 Despite mobile's secured space as the primary way to reach consumers, debates about the lack of creative formats remains an issue for publishers and marketers alike.
Streaming radio provider Pandora is hoping to do its part to change that dynamic by rolling out a set of native ad units following a beta test begun in June 2016, with Denny's, Express, Google, the Lexus Dealer Association and Ascent Protein.
The new units are specifically designed to connect with on-the-go consumers listening to Pandora. The placements are dubbed Muted Video and Responsive Mobile Display. The full unveiling for all Pandora advertisers is scheduled for January 19, 2017.
As Pandora reps tell it, these new ad formats drive promise marketer to deliver on key metrics such as time spent with ads, brand favourability and intent to purchase.
On average, beta partners saw up to 50 percent increases in time spent with the Responsive Mobile Display ads and refreshed Mobile 300x250s as compared to previous formats, and double digit lifts in brand favourability, awareness and message resonance. Meanwhile, the Muted Video solution saw a 32 percent increase in listeners who spend at least five seconds with the video, as well as strong completion rates.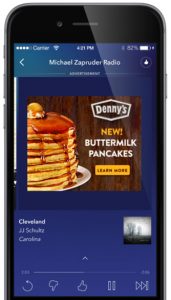 "At Denny's, we understand the importance of continuing to find new and innovative ways to connect with our fans on their terms and in their terms, especially in the digital world," said John Dillon, Denny's CMO. "Our recent beta partnership with Pandora offered us an opportunity to showcase the launch of our new Buttermilk Pancakes in a way that was highly engaging, while also being cohesive—rather than intrusive—to our target audience's online experience."
The release of the new ad units follows Pandora's hiring or programmatic ad veteran Eric Picard to sharpen its focus on location and other forms of ad targeting in the role of VP of Ad Product Management.
"We applied the same expertise that makes us the leader in audio advertising to our new visual ads to deliver strong, measurable results," said John Trimble, Pandora's CRO. "We are reinventing our mobile display ads to take full advantage of screen real estate and features native to our platform. And because our display ads are served only when a listener is looking at their phone and we have one of the largest logged-in user bases, we are uniquely positioned to deliver listener attention to advertisers at scale."
Source: Geo Marketing