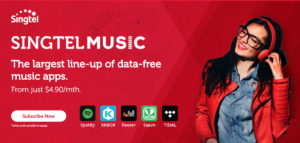 Music streaming platform Deezer has expanded its service in Singapore through a partnership with Singtel Music, the Singaporean telecom company's music offering, to provide subscribers with unlimited music without data charges.
Singtel post-paid customers will gain data-free access to Deezer's 53m songs and over 40,000 pieces of audio content, along with its 'Flow' feature.
"Singtel Music has been offering its customers a wide array of music in the past two years," said Diana Chen, VP for mobile marketing, consumer Singapore, at Singtel. "Through this latest partnership with Deezer, we're making music streaming even more accessible to fans who are increasingly using their mobile devices to listen to their favourite songs. Singtel Music customers can enjoy unlimited data-free music streaming anytime, anywhere, at their convenience."
An initial offer will enable customers to subscribe to Deezer Premium+ at the price of S$0.88 for the first two months of a 12-month contract, then S$7.90 a month thereafter. Deezer HiFi is available at S$2 for the first two months before costing S$15.90 a month for the following 10 months.
"Our partnership with Singtel Music not only strengthens our position in the streaming space in Singapore but, through diverse content and multiple price points, it opens up the opportunity for a wider range of users to access music that is both relevant and affordable," said Daud Aditirto, Deezer VP.
Source: Mobile Marketing Magazine