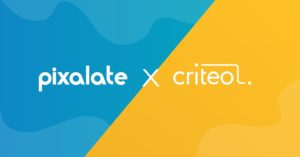 Criteo, the advertising platform for the open Internet, announced a global partnership with Pixalate, the world's first cross-platform ad fraud detection and prevention solution. As invalid traffic (IVT) continues to plague the advertising industry, Criteo is committed to making additional investments that will provide an increased scope of protection against IVT and low-quality inventory.
Through this partnership, Pixalate will supplement Criteo's existing IVT detection engine, helping to ensure its advertisers that the media bought on their behalf is viewed by real human users with genuine intent.
Pixalate, a Media Rating Council (MRC) accredited service for the detection and filtration of Sophisticated Invalid Traffic (SIVT) across desktop and mobile web, mobile in-app, and over-the-top media/connected TV advertising, will work in tandem with Criteo as an anti-fraud solution, to address General Invalid Traffic (GIVT) and SIVT across Criteo's current suite of products and emerging channels. Additionally, Pixalate's Media Rating Terminal (MRT) tool will be added to Criteo's expansive arsenal of protective measures and services.
"Criteo's partnership with Pixalate is another important step in our ongoing commitment to delivering the best quality inventory for our partners," said Marc Grabowski, EVP Global Supply, Criteo. "Invalid traffic is an ongoing industry issue, and the fight against it cannot be fought alone. By aligning ourselves with a best in class third-party vendor, we're able to establish additional layers of credible protection alongside our strong existing tools and protocols, in both pre-bid and post-bid environments."
"We are thrilled to announce our partnership with Criteo, a leading multi-national public company," said Jalal Nasir, CEO of Pixalate. "By implementing our end-to-end anti-fraud solution, from media planning to pre-bid fraud protection, Criteo is demonstrating its commitment to the fight against ad fraud."
This announcement comes on the heels of Criteo's achievement of multiple Trustworthy Accountability Group (TAG) certifications.
Source: Criteo