Timberland launches a spectacular new augmented reality activation to promote its new 'CityRoam' collection. Created by experiential innovation agency, Wildbytes, the activation invites urban explorers to discover their city from a fresh perspective.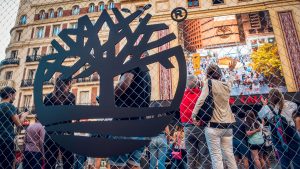 The innovative concept was developed in line with Timberland's communication strategy, which echoes the brand's exciting evolution from its rich outdoor legacy to its more casual lifestyle offering.
Taking place in Madrid's central Callao Square, the incredible activation transformed the space into a breath-taking urban jungle. Using the enormous 101-metres-squared LED screen as an interactive AR mirror, the unsuspecting public was treated to an unforgettable experience that empowered them to be the star of their own urban adventure.
After building anticipation with a countdown, the beginning of the large-scale interactive game was announced with a dramatic reveal on the LED screen, showing a giant version of Timberland's 'Alpine Chukka' boot falling from the sky onto the square. The audience was encouraged to participate by jumping and gesturing to throw the AR boot back up into the air – making it react in real-time to their movements. The activation closes with the footwear's tagline – 'Be Light, Be Fast, Be Free' – and a polaroid showing secret locations in Madrid, encouraging participants to view their city from a new perspective.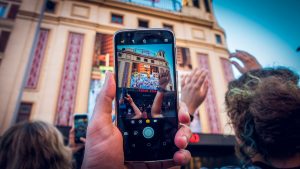 Wildbytes was tasked with communicating the spirit of Timberland's new collection.
Daniel Torricco, Managing Director of Wildbytes Spain, comments: "Timberland was looking for a unique and impactful experience that would resonate with its urban consumers. Group experiences have a higher capacity to forge emotional connections between the participants and the brand, compared to more traditional means. In fact, augmented reality generates over 20 times higher engagement than video content in terms of attention span. With this in mind, our idea was to transform the metropolis into an AR playground, where urban explorers could have a fun and powerful experience and discover some of the most unique places in Madrid."
As specialists at creating never-before-seen experiences through cutting-edge technology, Wildbytes harnessed its own custom-built augmented reality platform for this project.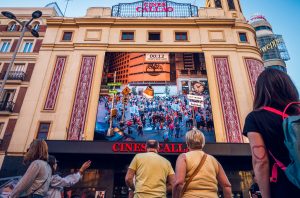 Daniel continues: "Due to the high volume of immersive projects we deliver, we decided to implement our own permanent augmented reality platform years ago, that we customise and tailor depending on the unique needs of every brand and project. Thanks to this, we were able to implement intuitive design elements for Timberland. We coded the large screen to detect the movement of people trying to play the game. A key consideration was to make the animated boot feel as realistic as possible to encourage audience participation. We created a perfect animated model of the boot and programmed the AR content in real-time 3D to react to the changing light of the square. Rather than it being a pre-recorded video, we adapted the light of the digital content to match the light of the square as the sun set – creating a stunning natural effect."
Source: Wildbytes