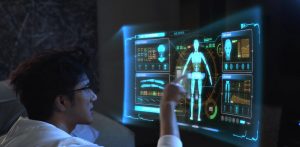 Kuato Studios, a London-based independent games studio, has teamed up with multiple Golden Melody Award-winning Chinese-American recording artist Leehom Wang to create the 'first ever' AR music video.
My A.I. Date with Leehom Wang gives fans the chance to experience a digital date with the singer-songwriter through face-mapping technology. Built for the iOS11 ARKit, the AR app has been launched to coincide with the release of Leehom Wang's 16th Mandarin studio album, A.I. Love.
"Just like video killed the radio star, we're now entering an age of AR killed the video star," said Leehom Wang. "It's exciting to be at the forefront of this technology with my new album, 'A.I. Love', which deals with artificial intelligence, and how it will change the world for humans."
The app also enables users to share their experiences on social media, increasing publicity and engagement for the singer. He is already one of the most followed musicians in China, boasting close to 60m followers on Weibo.
The app is available to download via the App Store, or by scanning QR codes placed on posters promoting the launch of the album.
"Through AR, we've been able to bring to life an experience many fans could only dream of and a mechanism for Leehom to increase engagement with his loyal social media following across the world," said Mark Horneff, managing director at Kuato Studios. "I have no doubt that companion apps like this are going to become more and more popular in the entertainment industry and we're delighted to be blazing a trail with Leehom."
Source: Mobile Marketing Magazine