Fashion e-retailer Bluefly wants to live in its shopper's pocket, says Carly Rosenberg, president at Bluefly.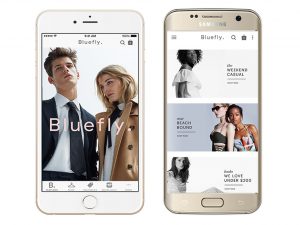 To do so, it needs to be on consumers' smartphones, so the retailer, No. 223 Internet Retailer 2016 Top 500 Guide, recently launched an app that offers all of the retailer's products.
Until last week Bluefly had an outdated app, however, it did not offer the retailer's full product catalog, it wasn't easy to update and it didn't receive much attention from Bluefly, she says.
Bluefly replatformed its website using responsive design at the end of March with e-commerce platform vendor Mozu. After a successful launch—Bluefly doubled its mobile conversion rate year over year—the vendor offered to build an app based off the newly redesigned site. Rosenberg agreed.
"In today's day and age you need to be accessible for how people want to shop, and we thought the convenience of an app was important to our customers," Rosenberg says.
The new iOS and Android app is a hybrid app using both native app and web app design techniques. For many pages in the app, such as product pages, the app loads pages from Bluefly's responsive website and formats them to fit the consumer's screen. This means that the retailer can update these app pages at the same time it manages its website. For other parts of the app, such as the app's home page and checkout pages, the pages are custom-built for each mobile operating system and thus must be updated separately. Bluefly did not hire additional employees to maintain the app. Because Bluefly also uses Mozu for its e-commerce platform, the cost for maintaining the app is rolled into the retailer's monthly fee from the vendor. Rosenberg would not disclose the cost of the new app.
Rosenberg says she is pleased with how consumers are interacting with the app, but she did not disclose use metrics. Many of Bluefly's shoppers are already on mobile devices, as 42% of the retailer's sales stem from mobile devices, and having an app will hopefully make it easier for shoppers to convert on mobile, she says.
One way the retailer aims to make it easier for shoppers to check out via the app is with a feature that lets consumers use their smartphone camera to scan their credit card information and save it in the app so they don't have to manually enter the numbers. In the future, Rosenberg hopes to add a button that will allow a shopper to checkout with her fingerprint.
Besides boosting mobile conversions, Rosenberg says the app is designed to keep Bluefly top of mind for consumers.
"Your app is a piece of marketing," Rosenberg says. "Think about how often you're flipping through your phone, thinking, 'Where should I shop?' or looking for something to do, and then there's Bluefly. If you don't have an app, you're not part of the consideration."
Using the app as a marketing tool becomes more important as consumers grow less interested in email, Rosenberg says. Email blasts no longer generate the traffic they used to, she says.
The e-retailer plans to send push notifications to remind shoppers they have the app. Bluefly often has flash sales and sending an alert to a consumer's smartphone is an easy way to let her know about them, Rosenberg says. The retailer plans to send about one alert a day, however, it is still testing to see how shoppers will respond.
The app also offers a curated Instagram feed. A page in the app gathers all of the Instagram posts Bluefly is tagged in, and the retailer displays selected posts on the page and links them to relevant product pages.
Bluefly is letting consumers know about the new app via ads on its website and marketing emails, Rosenberg says.
Bluefly switched to a marketplace model in 2013 after Clearlake Capital acquired the company. About 90% of the products on Bluefly.com are from marketplace sellers, and Rosenberg hopes within a few months, 100% of the items will be from marketplace sellers.
Source: Internet Retailer