Bloomsbury Publishing
has signed an innovative content partnership to bring its 33 1/3 series of short books about popular music onto Spotify's streaming service.
Each book in the dedicated series, now 130 titles strong, revolves around a single album and has grown to command a cult following amongst musicians and fans alike through coverage of stars such as Bjork, J Dilla and Merle Haggard.
Bloomsbury chief executive Nigel Newton said: "For 15 years the series has produced an amazing range of personal, experimental, and innovative music writing. I'm delighted that our partnership with Spotify will break new ground for the 33 1/3 series. It is one of a number of partnerships which Bloomsbury is successfully seeking out with the world's most ground-breaking companies to expand our digital offering."
Courtney Holt,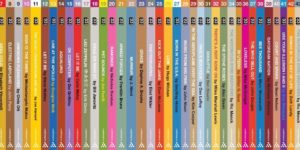 vice president and head of Spotify Studios and Video, added: "As a die-hard music fan, I discovered the 33 1/3 series many years ago. When I first joined Spotify to think about spoken word and audio content, I knew this would be a perfect partner for Spotify. We look forward to bringing this amazing series to our global music-loving audience."
Under the terms of the deal each 33 1/3 story will be made available exclusively on Spotify as an audiobook.
Last month Spotify unleashed a new ad supported personalised streaming app in order to remain competitive in the fiercely competitive streaming sphere.
Source: The Drum