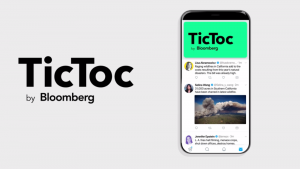 Bloomberg Media and Twitter launched TicToc by Bloomberg, the first-ever 24/7 global news network built for a social media platform that targets the next generation of on-the-go, mobile-first news consumers. It combines the global news gathering capabilities of Bloomberg's 2,700 journalists and analysts across 120 countries, with the digital power and immediacy of Twitter, one of the world's fastest and primary news distribution channels.
The first iteration of TicToc by Bloomberg will feature a mix of live video and reporting from Bloomberg journalists around the world, as well as breaking news content from consumers, curated and verified by Bloomberg editors with a real-time distillation of the related conversation on Twitter. The news experience is designed to be interactive, rich with Twitter content and consumable on any device. Coverage will focus on general interest news worldwide.
"We're seeing a shift in the media landscape today: more content companies are partnering with platforms to create hybrid businesses that better serve consumers and society. With TicToc by Bloomberg, we're fusing the best of Bloomberg and Twitter to build a fast and credible modern news experience," said Bloomberg Media CEO Justin B. Smith. "The launch of this new network further reinforces our strategy of driving innovation through exciting new products and services that touch a broad audience around the world."
"It's early days, but what makes TicToc by Bloomberg unique is that consumers will be able to watch live news and the conversation around it at the same time, all while a dedicated team of Bloomberg editors verifies the facts. We're leveraging our journalism and data to reach and inform an intelligent audience on Twitter around the world," said Bloomberg Editor-in-Chief John Micklethwait.
"Twitter is where people go for breaking news, and now our global audience can turn to TicToc by Bloomberg at any time to see what's happening in the world no matter where they are," said Anthony Noto, Twitter COO. "Combining the journalistic integrity of Bloomberg with the speed and global availability of Twitter makes this a collaboration we are really excited about."
TicToc by Bloomberg recreates the visual presentation of news for a mobile, social world through the use of video, data, and graphics. Users will have access to two types of news content:
Breaking News: TicToc by Bloomberg will cover global breaking news when consumers need it and when an event warrants it. Live coverage for key events will be presented alongside real-time distillation of the facts and Tweets about the event.
Global News Update: An hourly update of global news will be available in short, digestible clips, refreshed at the top of each hour. The segment will be comprised of top global news so that consumers are constantly up to speed on the stories that matter. It will also include slightly longer clips that put news into context, providing deeper analysis of the top news stories of the moment. At launch, top-of-the-hour news coverage will be updated from 6am to 10pm EST, expanding to 24 hours in early 2018, while weekend coverage will include regular news updates, prioritising live breaking news events.
The global news update will be available for replay and refreshed each hour with evolving stories from around the world. Relevant Tweets, curated and verified by Bloomberg, will run below the video programming, allowing consumers to see accurate Tweet conversations around the news.
To support TicToc by Bloomberg, Bloomberg is building a dedicated team comprised of editors, producers, social media analysts, product developers, engineers, designers, and marketers that will leverage Bloomberg's global resources.
Seven sponsors have signed on as the Founding Partners of TicToc by Bloomberg: AT&T Business, CA Technologies, CME Group, Goldman Sachs, INFINITI, SAS, TD Ameritrade. TicToc by Bloomberg will feature branded native content and unique integrations woven into the video programming, created by Bloomberg in partnership with each sponsor.
"We know how critical education and information are to the investing process. And, in today's fast-paced world, consumers want the latest news at their fingertips, in their format of choice, from a source they trust," said Francie Staub, managing director of integrated and digital marketing at TD Ameritrade. "That's why we're so excited to work with Bloomberg as it reimagines the mobile newsroom – leveraging cutting edge technology to help create a more informed, confident investor base."
Source: Bloomberg Media