Blippar, one of the leading augmented reality and computer vision technology company, announced the launch of its new large scale augmented reality experiment in form of an app: AR City.
The app, currently in beta, harnesses both augmented reality and computer vision to allow users to access information and content as they travel and navigate around cities. This is the latest step in Blippar's mission to catalogue the world and redefine the way people discover, experience and interact with the world around them.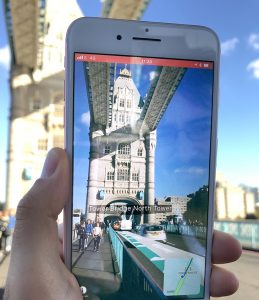 The app will feature three key layers of information:
AR basic navigation: a visualisation of walking routes through augmented reality.
Enhanced map content: overlays of information and content related to user location in AR – for example streets and points of interest.
Urban visual positioning: recognition, positioning, and directional information via computer vision, available currently in Central London, San Francisco and Mountain View.
AR basic navigation, available everywhere that is supported by Apple Maps, will visualise routes with arrows shown in augmented reality. AR basic navigation uses GPS to estimate the absolute position of the user, and Visual Inertial Odometry (VIO) to track their local movement. Blippar smoothly integrate GPS and VIO throughout the entire experience by building on the ARCL library, which uses Apple's ARKit for VIO and Core Location for GPS.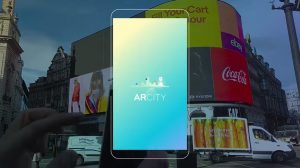 Compared to recent apps using the ARKit, AR City does not require the user manually adding virtual content into the world. Instead, AR City places roads and building at their correct geographical location by leveraging Blippar's technology.
The enhanced map content, currently available in over 300 cities and metropolitan areas across the world, will provide an AR experience within the city environment. Initially it will provide details and information about the surrounding environment on a walking distance scale, including street names, buildings names, and local points of interest with information pulled from the company's own visual knowledge graph. By integrating Blippar's Knowledge Graph, local search, and AR technology, AR City provides users a single and immersive AR experience. In the future, it will expand the content offering and introduce content from third-party partners.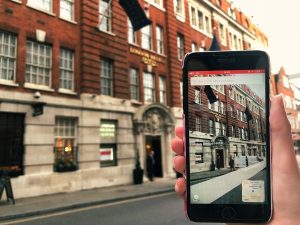 To improve the visual experience, this second level of information uses "occlusions", meaning that Blippar are able to display only points of interest visible from the user point of view, and not, say, those behind a building. Further, they augment existing 2D maps with ground elevation from geological surveys, which enables us to display AR roads and routes with the correct slope.
In San Francisco, Central London (zone 1 and 2), and Mountain View, Blippar will provide access to its pioneering Urban Visual Positioning (UVP) system. Most AR City features, such as overlaying virtual information onto a physical building, or a virtual route onto a physical street, require more accurate localisation than a typical GPS can provide.
Blippar's UVP system, which is an industry-wide breakthrough in location-based AR, provides more accurate positioning than traditional GPS. GPS doesn't give a high enough level of accuracy when looking at the map, often causing confusion. GPS has an average error rate of 16m usually in cities, while Blippar's system provides more than twice its accuracy.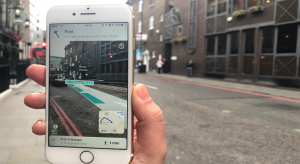 The AR City app is the latest development from Blippar designed to create a fully augmented reality-enabled world, powered by computer vision. The app is still in a beta form but it already shows how this technology could transform a host of markets and industries. For instance, the building blocks that underpin the AR navigation app could be used to deliver immersive city guides and detailed local tourist information. The guidebook industry alone is a market currently worth $90 million, according to industry research group Nielsen.
Ambarish Mitra, CEO of Blippar, commented: "AR City brings together crucial aspects of Augmented Reality and Computer Vision to transform how we experience our cities as we walk and explore. This technology will eventually replace the current map systems.

"The technology seamlessly combines the digital with the physical, and is a significant step in our mission to create AR natural enough that users don't feel any disconnect. What we announced today is an important breakthrough for the industry. The technology is still in its infancy, but its impact will be significant. What we are showing today with the beta version of the app is a glimpse of its potential, and we will continue to develop it, adding further features over the coming months and improving the experience.
"This announcement continues to push the boundaries of augmented reality and computer vision, and opens access to technologies that have the potential to disrupt the fundamental architecture of vast location-based industries. This is an opportunity for other players in the ecosystem to use our technology to take significant leaps forward in travel, autonomous transport, gaming, and many other markets."
Available from November 7th on the App Store, the beta version lets users with an iPhone 6s and above, manually adjust their position and heading in order to improve the AR experience.
Source: Blippar